When you hear the term "bachelor pad", you might initially imagine lots of empty pizza boxes, piles of laundry, and a mattress on the floor… not so stylish, right? To the contrary, many men value a sense of style and personality in their apartments – they often just don't know where to start. So here is a list of design tips for a bachelor pad that is not only functional but expresses your unique personality and aesthetic.
First ask yourself: what does my lifestyle demand?
If you are one to entertain your friends in your home often, you'll want a very different setup than that of a work-from-home writer or entrepreneur who doesn't have people visiting often. If you host often you'll probably want to emphasize that quality of your home with a spacious and welcoming living room, seating for all your closest friends, and a kitchen that accommodates big cooking adventures. If you'd prefer to keep your home quiet, the living room can be set up just for you and leave space whatever else inspires you. Let your bachelor pad ideas stem from how you'll be using your home most frequently!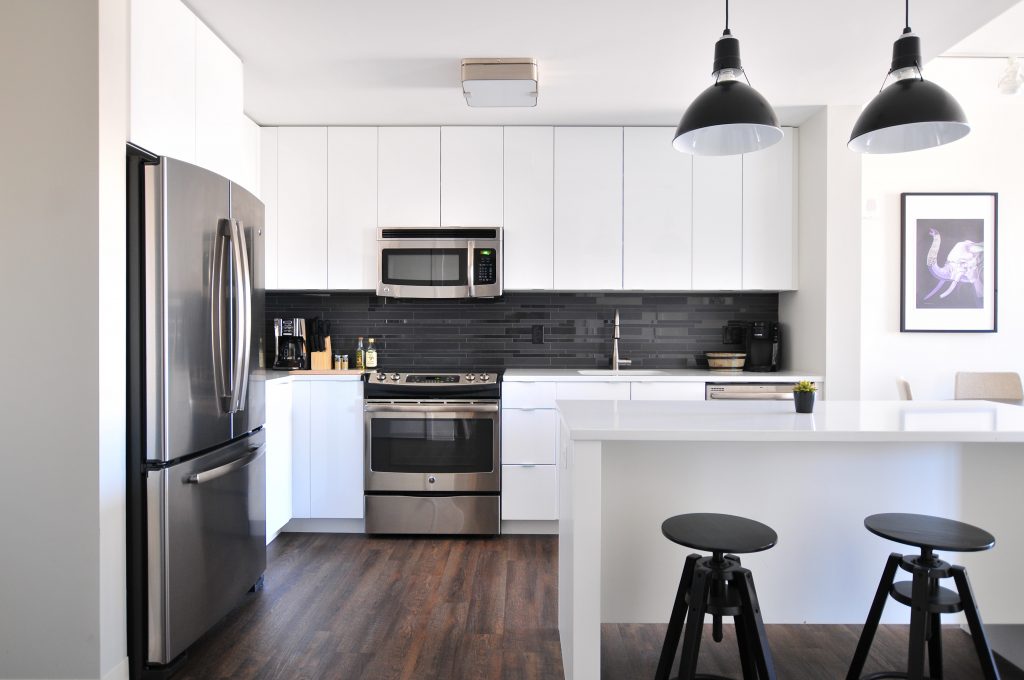 Next: keep it minimalist
Whether you host a lot of parties or not, you want to set yourself up for success. The fewer pieces of extra furniture or clutter you have the easier it will be to keep it all clean. What's more, the minimalist design aesthetic tends to evoke a more masculine feel to a home – open space, blank walls, clean lines, and crisp colors are easily shifted around and accented to create a subtle but notable personal touch.

As you begin to imagine your decorations, choose a few accent pieces: begin with a great couch. Don't skimp on this one or try to make that hand-me-down couch work! It's central to the feel of your living room, so choose the one you really like and allow it to inspire the rest of your design.
Incorporate art and decorations that display your personality
Well-decorated does NOT mean sterile. Staying in line with a minimalist approach, include art pieces or personal collectibles in your decor that express something about who you are. Include a framed print of an inspiring quote that you love. Decorate with some of the figurines you collected as a child, or by artistically hanging baseball bats or golf clubs. Choose art that you actually really like because it speaks to something about you.

Design your bedroom too
So you're a single man. You're the only one (currently) who sees your bedroom… but do you want it to stay that way forever? Tips for a bachelor pad interior design sometimes miss this part. Choose a bed frame that actually says something. Sturdy and wooden with a statement headboard, modern and artistic with built-in reading lights, select a bed, bedside table, and lighting that you'll be proud to show someone someday. Ahem. This can include building one yourself if you're handy – there are plenty of DIY designs available online!
Make your kitchen versatile
The best bachelor pad ideas allow the bachelor to accommodate different people and needs in his home. Though your friends may all be happy to eat at your bar, what about when your nephews come to visit? As you're setting up your kitchen think versatility and future adaptability. The best items can be moved around and repurposed when the time comes.
You don't have to be totally stumped by how to design a bachelor pad if you keep to these simple tips. Lucky enough to have a garden? Check out our tips for decorating your outdoor garden space, too.
For those men who are not single and can only dream of a bachelor pad do not despair. There's hope for you in the shape of a great man cave.