Now that the movers are long gone, you've unpacked some boxes in your new home and you're starting to settle in, your stomach growls — oh right, you need to do some shopping! The first shopping trip is always a little chaotic as you try to remember all of the basics you need for each room — don't forget the plunger, you'll definitely need some coffee, cleaning supplies are a necessity, and what about curtains for the bedroom?
Rather than spend hours wandering the aisles of your local stores in your first week, let us help you make sense of your first apartment grocery list. Here is our best estimate of the most common things you'll need when you move into your new home. Tip: print it out and walk around your home with it, crossing off anything you've already purchased, and then take it with you when you go out shopping.
You can probably find most of these items at your local Target, a bulk retailer like Costco, or at a well-stocked grocery store. For a quicker option? Order them online through a retailer like Amazon or Google Express and have them delivered to your doorstep so that you can focus your attention on settling in. Chances are good this will be a muti-trip endeavor, so post a piece of paper on your fridge or start a shared note with your family to keep a running grocery list for your new home.
Here's a printer-friendly version:
Pantry Staples
Regardless of what you plan to cook in the next few weeks (comfort food anyone?), you're likely to need a few staples in your pantry. These are the items that you could easily forget that you don't have yet because you just always keep them around. Make sure they're on your must-have shopping list for a new apartment.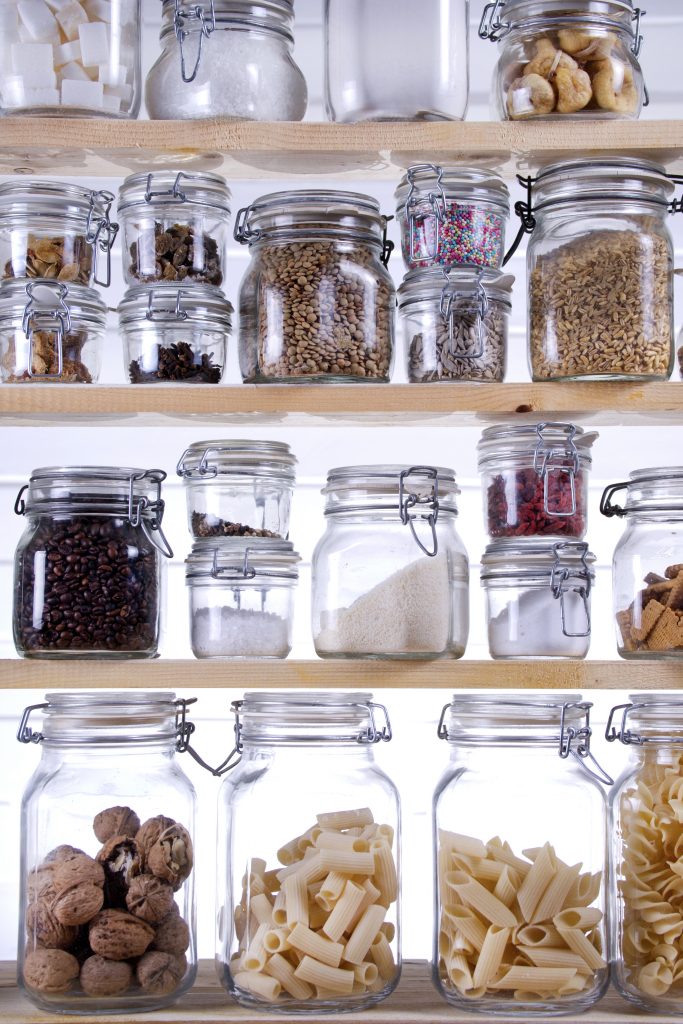 Chicken, beef, or vegetable broth — in cartons, or in bullion cubes
Canned tomatoes
Pasta sauce
Dry Pasta
Rice
Whole oats
Tea
Coffee
Sea salt or kosher salt
Lentils and other dried or canned beans
Snacks like pretzels, chips and salsa, granola bars, etc.
Cooking and salad oils like olive, sesame, and coconut
Spices and Seasonings
Salt and pepper can go a long way, but every dish gets better with some proper seasoning. Start things in your new home on the right foot with deliciously spiced meals. You could start with:

Peppercorns
Parsley
Basil
Paprika
Oregano
Dill
Ginger
Garlic or Garlic Powder
Chili Powder or Crushed Red Pepper Flakes
Cinnamon
Nutmeg
Cumin
Curry Powder
Baking
Are you a whiz with muffins? Make sure you're prepared for a late-night urge to bake. Some of these items may need to be tweaked to your preference, especially if you are vegan or need gluten-free options.
Flour, white and whole wheat
Sugar, white and brown or turbinado
Baking soda
Vanilla extract
Baking powder
Vegetable Oil
Yeast packets
Cocoa powder
Gluten-free flours if applicable
Condiments and Sauces
Again, let's talk about what you don't want at your new home: boring meals. Burgers need ketchup and toast need jam, so make sure you have some of both on the shopping list for your new home.
Salad dressings
Ketchup
Mustard
Relish
Maple Syrup
Worcestershire sauce
Soy sauce or Tamari
Mayonnaise
Peanut or Almond Butter
Jelly
Honey
BBQ sauce
Vinegar (Apple Cider, Balsamic, White, Red/White Wine)
Fresh Fruits and Vegetables
Things can certainly get busy when you're moving but that isn't an excuse to stop eating your vegetables. Everyone has varying preferences of course, so go with the items you know you'll use. Bonus if you pick out a recipe to make in advance and buy those ingredients!
Apples
Oranges
Bananas
Seasonal items like clementines, peaches, melon or plums
Grapes
Lemons
Avocados
Lettuce
Spinach (or other greens)
Carrots
Broccoli
Potatoes
Squash
Mushrooms
Tomatoes
Celery
Frozen
When you've spent the day painting your new living room and realize you have absolutely no fresh vegetables, having some frozen foods on hand can save the day. Stock up on some of these basics when you're buying food for the new apartment.
Mixed vegetables — sauteed mix or another medley
Berries
Breakfast foods like sausage, frozen waffles, or bagels
Ice cream
Pizza
French fries
Veggie burgers
Healthy prepared dinners
For the Fridge
Everyone is a little different in this category, so it is best if you determine which grocery essentials you use on a daily basis and make your own list here. Milk (dairy or non-dairy), eggs, and other perishable items like butter and yogurt are often staples on folks' grocery list for a new apartment, but you may have additional items that are necessary.
Baked Goods
For the gluten lovers, prepare your sandwich-making supplies! If you don't do wheat or grains, keep on reading and skip this category. Whether you prefer to go fresh or frozen with your baked goods depends on your preferences!
Bread
Bagels
Muffins
Tortilla shells
Pita pockets
English muffins
Meat and vegetarian alternatives
If you eat meat, it's time to find a new preferred butcher or meat shop and grab a few items to get you started. Consider freezing a few things to save you from taking too many trips to the grocery store in your first few weeks in your new apartment. For the veggies among us, you know best what you like to prepare — but we have a few suggestions to add to your new apartment grocery list
Chicken
Shrimp (fresh or frozen)
Fish
Ground beef or turkey
Deli meats
Vegetarians:
Tempeh (flavored or unflavored)
Tofu
Seitan
Falafel mix
Toiletries
Since most people have their favorites, you'll probably be bringing a lot with you already. But just in case you're starting from scratch — perhaps you moved internationally — this list will ensure you have the basics.
Bath and hand soap
Shampoo and conditioner
Fresh toothbrush and toothpaste
Floss
Cotton swabs
Facial cleaner
Feminine products
Deodorant
Facial and body moisturizer
Shaving cream
Razors
Bandaids
Gauze
Hydrogen Peroxide or medical-grade alcohol
Lip balm
Sunblock
Before you head out with your new apartment shopping list and splurge on an epic shopping adventure, check your budget! You might choose to identify your necessities and then stock up over time instead of buying all at once. For bulk purchases like toilet paper and rice, consider buying in large quantities from a wholesaler to save a little money!
Make sure to check our New Apartment Ultimate Checklist before making the move.