When you hear the word "playroom", you might envision chaos: toys everywhere, drawings on the floor, and not a hint of organization to be found if you aren't constantly on toy patrol. But we all know that kids need a space of their own to play, be creative, and, of course, keep their toys. Whether you live in a small home that requires you to be resourceful or you can designate an entire room for the kids, you can set up a playroom that the kids will love and keeps your aesthetic sensibilities appeased.
Storage, storage, storage
Whether you're capitalizing on a small nook in your apartment or dedicating an entire room, a playroom that pleases both parent and child begins with adequate storage for toys, craft supplies, and completed drawings on display. Organizational gurus will tell you that everything needs a "place", otherwise it will end up on the floor. Utilize shelving, cubbies, stacking bins, and even hanging hammocks for stuffed animals. Install magnet strips on a designated art wall, or hang "clotheslines" from the ceiling to store not-yet-dry painting projects.

Tip: Think long-term. Invest in furniture, wall hooks, and shelving that will stand the test of time and use! Be sure to child-proof your home to keep the kiddies safe as possible.

Look for items that serve multiple purposes
Especially if you're working with a small space, you want to be efficient with your furniture choices. When setting up a playroom for kids, think tables that can be turned over to become an easel, paint stations that can also be chalkboards, and benches with hidden drawers and storage. If there is an empty space, it can be utilized somehow!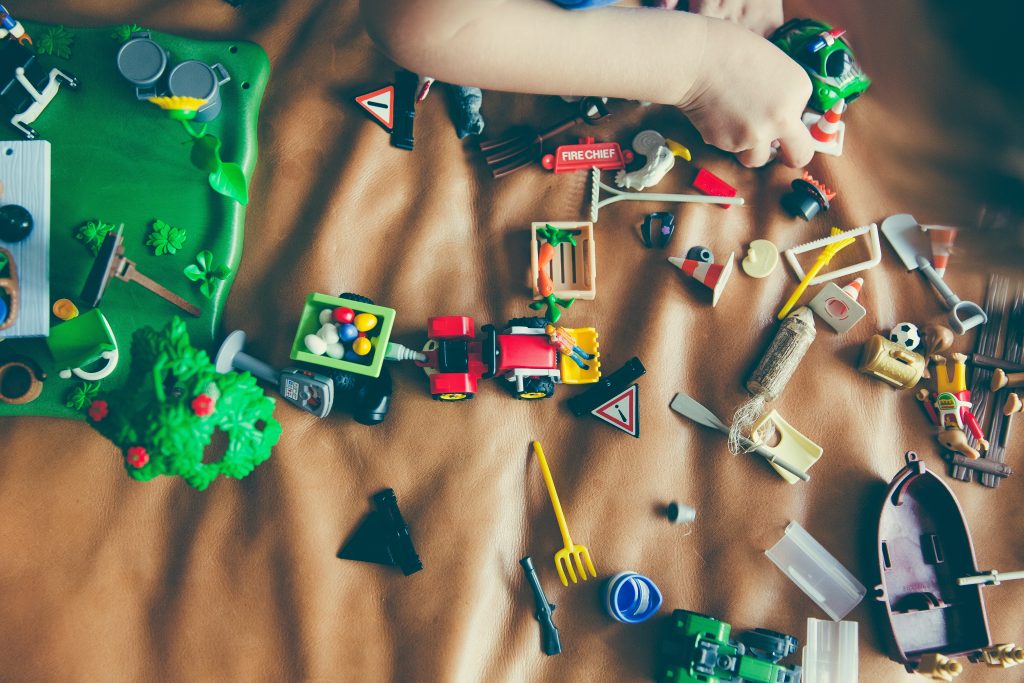 Choose decorations, patterns, and colors that can grow up with your children
They may love ponies now, but you know that will change. When perusing playroom ideas, look for durable wallpaper in patterns that will still feel age-appropriate in a year or two. Choose paint colors that are more on the neutral side while still keeping a playful feel, and if you have kids of different ages, make sure everyone can feel at home with the decor. Let the older children have a say (and a hand!) in the setting up the playroom where it's appropriate and everyone will be pleased!

Cater to your children's play habits
If your kids play with blocks almost never but play dress-up nearly every day, organize their playroom to make the costume box center focus and keep the blocks tucked away on a shelf. If Legos are their favorite thing, consider a low table to house all of their castles. Aim for a balance between aesthetics, functionality, and that personal touch that makes it the perfect playroom organization for your kids.
When you don't have a designated room…
Choose an area that feels somewhat contained, like a corner or a pocket between two bookshelves. You could use a small divider or use cushy modular flooring or a rug to designate the "playroom" space, too.

Then, get really choosy about your storage and furniture selections: they should match the rest of the decor, but also be built to withstand the impacts of kid life. Consider painting the adjacent wall with blackboard paint, or buy an easel that can easily be folded up and tucked away after use.
Lastly, setting up a playroom for toddlers or older kids should be fun, since it's where they will come to play! Have a good time with your kids, and everything will come out just right.