Moving can be tough on kids. A lot of their sense of identity is wrapped up in things like their space, their friends, and their routine. Their experience with the world is limited so the ways – and places – they spend their days are a big part.
When it's time to move, this can feel shaky for a child. Suddenly there are some big changes and they'll need your help adjusting. Start before moving day and help get them prepared and excited in advance.
Ultimately, you'll make the move go more smoothly for yourself and your kids if you help them feel like they're a part of the process. Here are 5 things to consider when moving with children, to help ease the transition.
1. Come Together
The announcement of a move will be a big moment for your kids. Even if you're only moving a couple of blocks away, those blocks can feel like a whole new world for them. Start with cultivating a bit of empathy for their experience of moving to a new place.
Next, come together as a family, whatever your family dynamic looks like. Sitting down and softly opening a conversation about moving is a great starting point in the process.
If you're moving for a new job, share how much you're looking forward to starting a new role. No matter the reason you're moving, share your positive outlook but give space for their input. Allow them to share how they feel, including uncertainties or concerns. If you have a story to share about your first move, try telling them some positive things about it.
2. Give Reassurance
Let your kids know you're there for support. That you understand that a new home, or neighborhood, or even school can be a big adjustment. Staying positive is important but be careful not to overshadow how they're feeling.
The best way to help put their mind at ease is to remind them that they can play an active role in the move. Tell them you'll need their invaluable support in packing and unpacking. If they're worried they won't see their friends or family members, let them know you can still have playdates – even if that means via Zoom.
If you're moving to a close enough location, take them to your new place. Go for a walk around your new neighborhood, find a new favorite park to play in, and grab a snack at a nearby restaurant or cafe. Show them that life will be different but that there is a lot to look forward to.
3. Start Daydreaming
To help get connected to your new life and space, start to daydream. Talk about ways your child may want to decorate their room. Go to a nursery and pick out some plants to put in the garden or new window sill. Chat about a pizza picnic in your new living room where you can play their favorite games.
If you've already been able to play tourist in your new neighborhood, imagine together taking walks to the park. Daydreaming is a great way to connect positively to the new place while you're still gearing up for a transition out of the current one.
4. Get Them Involved
Okay, it probably goes without saying that kids aren't the most professional packers. There are plenty of ways to get kids involved in the moving process, though.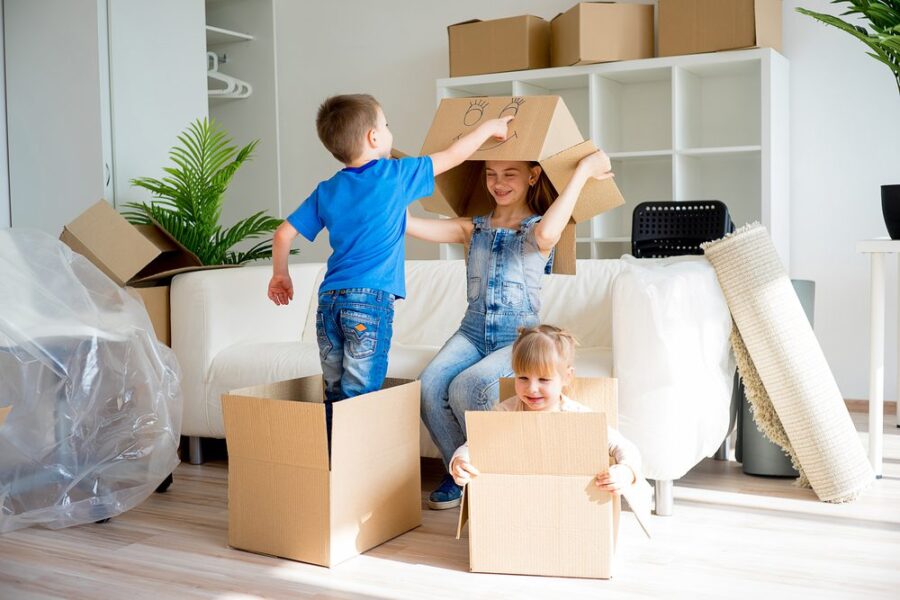 Have them pack their own stuffed toys and other things into a box. Let them join you in picking out a paint color for their bedroom, or new towels for the bathroom. Whatever small things you have going, let them feel involved. The overwhelm of the move can be exaggerated if it feels like it's happening to them rather than something they're actively a part of.
5. Say Some Goodbyes… And Hellos
Packing the car, turning out the lights, and shutting the front door may feel like enough for you – but your kids likely need more. Take a little journey through your home to say goodbyes. The kitchen where you baked together. The dining room where you shared meals. The living room where you watched movies together. Their bedroom where they had so many sweet dreams. Sweet goodbyes and trips down memory lane are great closure.
Equally, hello is a great way to enter a new home. Why not take a walk through your new home and say hello to new places and new memories yet to come?
When you're ready for a big adventure to a new home, Unpakt can help. Within minutes Unpakt will connect you with trusted, reliable movers near you. Then, you can get back to daydreaming.