Moving for the first time is a really exciting time. Freedom! Independence! Leaving your dirty dishes in the sink if you feel like it! Finally, you get to live your day-to-day life how you want it.
Of course, all of that can be deceptive. You can get so caught up in daydreaming about your new solo life that you forget that there's a whole process to getting there. The actual move isn't the most fun part of the entire equation and there are lots of things that get easier with time. Have no fear: we'll help you pack smartly for your first move so you can tackle this milestone with grace and get back to being excited.
Start Early
The best chances you have for a smooth move are to have plenty of time for planning. By starting your planning and arrangements early, you can easily (and dramatically) lower the stress of this process.
Take a strategic approach to packing. You may think you need to save packing until the last moment – after all, you still have to carry on your life in your current place! – but that's not entirely true. Sure, you'll want to keep some socks and underwear in your drawer, but what about the rest? Choose items or areas that you use the least, like seasonal clothing and sports equipment you won't need between now and moving day.
Do you really need your bookshelf stocked full of books for now? Probably not. Pack those up along with any dishes or small appliances you're being gifted for your new place. Chances are, you have plenty of kitchen supplies to use without those items.
Start with the least-used items and work your way to the most-used. This will help keep your daily life relatively normal while still making progress. Commit to packing a few boxes each day, and keep a few empty boxes for the final phase as you approach the big day.
Pare Down
Now's your chance. If you've been stuffing old clothes in the back of your closet and hiding unused items under your bed, it's time to break the habit.
Packing for a move is the perfect excuse to sort through your belongings and start to ditch what you don't need. Take an honest look at the stuff you've got and decide whether you can live without it. Set up boxes marked donate, sell, and throw and sort your things as you go.
If you choose to sell your things at a consignment shop or through an outlet like Facebook Marketplace, give yourself time. While profitable this process can also be fairly time-consuming. After you've collected your donate pile, check with your local center to see when you can bring your things. Many donation facilities have receiving hours and requests on how to prepare the items for donation, so save yourself an extra trip by learning just how to do it right the first time.
Gather Supplies
When it comes to packing, you'll need a lot of supplies to ensure you do it right. Particularly to ensure your breakable items are protected and everything is easy to shift. Don't risk cramming your clothes into pillowcases and carrying loose books by the armload. Gather the right supplies and pack up properly.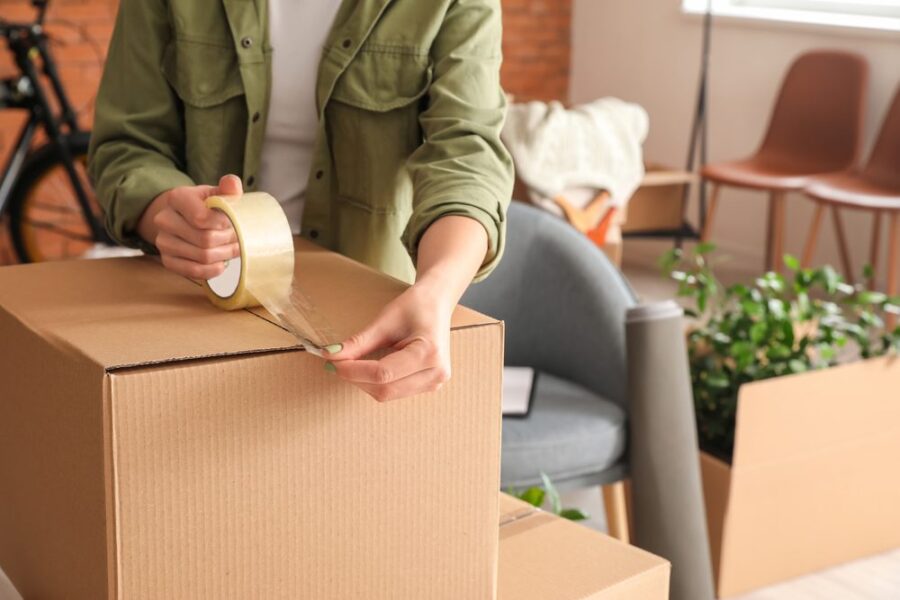 Grab moving boxes in a variety of sizes. Luckily, you don't have to purchase new ones. Check with liquor stores, book stores, and grocers for used boxes they may be willing to give you. Then, grab scissors, markers, packing tape, and padding like newspaper and bubble wrap. The best advice we can give you here is to collect more than you think you'll need, particularly since it's your first time moving. It's best to handle your downsizing and sorting beforehand so you have a clear picture of what you're taking.
Packing
The most important and time-consuming aspect of moving is the packing phase. You'll have a lot of things to be packed and chances are, a lot of small items. You don't need to only use packing materials to get everything prepped. Towels, socks, rags, and other linens are great for packing small glassware and decor.
You can pack your clothes in suitcases or leave them in dresser drawers (removed from the dresser, or it gets pretty heavy!) to make double use of things already coming with you. Heavy-duty plastic bags are great for blankets and pillows. They will fit into nooks and crannies in your moving truck with ease. Remember to pack heavy items like books into smaller boxes so they can be lifted and carried without breaking your (or your mover's) back.
Take the time to label all of your boxes, bags, and bins so you know exactly what goes where. Unloading the moving truck into the right rooms will save you in the unpacking phase as everything will be in the right area of your home from the beginning. Moving and unpacking are much less stressful with a bit of forethought and planning.
Make sure you pack an essentials box for your first night or two in your new home. That includes bedding, towels, cleaning supplies, toiletries, medication, and one set of dishes for your first meal. Love a cup of coffee first thing in the morning? Make sure the coffee maker goes into your essentials box!