Moving can be a costly experience, proper planning and budgeting can save you money on moving boxes. Use strong and durable boxes to transport your belongings safely. Don't spend extra on new boxes, recycle and obtain them for free. Here are 7 options for obtaining free moving boxes: visit grocery stores, liquor stores, bookstores, office supply stores, check craigslist, Facebook marketplace, and Freecycle.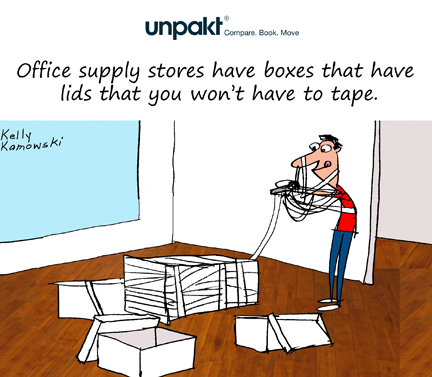 1. Office Supply Store
Office supplies need to be shipped in sturdy boxes, of course. More fragile things like computers or other electronics often arrive with a lot of packing material that ends up getting tossed. So visit stores like OfficeMax and Staples and ask if they have any of the boxes that printer/copier paper are shipped in. Or, find out what days of the week they receive shipments. Paper boxes are perfect for everything from pots and pans to books. They are a great size to ensure that you don't pack too much heavy stuff in one box. Some of those boxes have a lid already, so you only need minimal tape.
2. Bookstores
Books are, of course, shipped in boxes of all shapes and sizes. They generally have one thing in common: they're sturdy and durable because, duh, books are heavy. Most bookstores get a shipment in once or twice a week, so stop at a few in your area to find out what their delivery days are. Then make a plan to go get moving boxes. If you live in a major city, those shipments probably come more regularly and are sizeable.
Ask around at Barnes & Noble, Borders, or whatever store you happen to have nearby to get free cardboard boxes.
3. Bars and Restaurants
Restaurants get things like vegetables, liquor, canned goods, and other such things delivered regularly. Those boxes have to be strong to ensure the fragile contents inside don't go crashing to the floor, making restaurants a great place to get packing boxes. The liquor boxes that are in abundance at bars are great for many things. Pack plants, last-minute odds and ends, and other things you are taking in your car that don't require the box to be completely sealed. Usually, the tops have been cut off already. Restaurants will have things like freezer boxes of French fries, produce crates, and dry storage boxes. Keep in mind that boxes may smell like fried food (or food in general). You probably want to avoid using them for bedding, clothes, or other items that could absorb food odors.
4. Grocery Store
Well in advance of your moving day, ask your local grocery stores when their big shipments come in. Let them know you're looking to get moving boxes. If they're feeling generous, you'll hit the jackpot of free used boxes! Banana and apple boxes are particularly useful because they are solid. However, they do have gaps to allow the fruit to breathe. As long as they're clean (no rotten apples!) they make great moving boxes for your bedding. Or, line them with a trash bag to hold your unwieldy collection of socks.
5. Pharmacy
Most likely you live somewhere near Walgreens, CVS, or Rite Aid. Find out when they receive their biggest shipments and, just like the grocery store, make a plan to stop by. If the manager is feeling generous, they may tell their staff you are looking to get moving boxes so they can save the best ones — and bonus, you can save them the trouble of breaking them down. Simply stack the small boxes into medium boxes, and medium into large, so you can fit more in your car.
6. Liquor Stores
When pondering where to get moving boxes for your upcoming trip, you might have thought about going to the liquor store for other reasons… but what about getting some boxes there, too? Wine and liquor boxes are solid, but they usually aren't very large and often have the tops cut off. If you use them strategically and creatively, they can still be a huge help when it comes to transporting your belongings. The larger cases that six-packs arrive in can also be excellent moving boxes, though not as sturdy as liquor boxes. Be aware that liquor boxes are often held together with staples (which makes them more sturdy than glued boxes), so be careful of rogue staple ends that can be sharp.
7. Home Improvement Stores
Places like Lowes and Home Depot will generally have lots of large boxes — think appliances, tools, cans of paint, etc.– but because of the nature of large stores, sometimes it can be difficult to get to them. It never hurts to inquire though, and if you're lucky you may just score an awesome spot to get moving boxes. For the sake of ease, you may have better luck at a locally-owned small hardware store where you can befriend the staff — and where the staff are probably happy they don't have to break down all of those boxes this week.
Bonus ideas: where to get moving boxes
Craigslist/Freecycle – These online forums are run by the public for the exchange of goods. Often people will post a listing of moving boxes just after they've moved into a new home – as long as you're willing to go pick them up – for free. Craigslist may include people listing cheap boxes, but Freecycle is meant to be completely free.
Social media – Facebook has its Marketplace feature, and many towns and communities have Groups intended to serve as a resource to residents where you could post your need for gently used moving boxes. You never know what you might find!
U-Haul Box Exchange – U-Haul made a free message board for people to find used boxes for free, as well as help connect members of the Armed Services and college students to share storage units, moving trucks, or other moving needs.
Home Goods Stores and Toy Stores – Really, any store that receives large shipments ends up with a lot of cardboard boxes, but home goods stores in particular regularly get boxes for dish sets, glasses, and other fragile items that could come in handy when you're trying to ensure your precious items don't break (see

Unpakt's guide for packing dishes

).

Recycling Centers – Many recycling centers and transfer stations have an area reserved for gently-used boxes, where patrons can drop off or grab boxes as needed. Check yours — just remember that at most centers, rifling through the cardboard bin is discouraged or even prohibited. Talk to the staff to be sure you're in the clear before you jump in to get boxes.
Where to buy moving boxes if you must:
If you have exhausted your options — or find yourself running short on time because you didn't plan enough time to pack — you may need to buy some of your moving supplies. Here are a few places you might look:
Your moving company – As part of your moving package, you may be able to get cheap moving boxes through your movers. They have access to a wholesaler, of course, so can sometimes offer you a bundle of various sizes for a deal.
U-Haul – You'll probably find that the prices at U-Haul are lower than at hardware stores or office supply stores, and sometimes they will have a "free boxes" bin too for grabbing what you can while you're there. Don't forget to pick up packing tape while you're at it!
UPS Store – These are professional shippers, so you'll be able to find any and all packing materials you might need here – including really big rolls of bubble wrap.
Online – Retailers and discount hubs will have bundles of boxes for significantly less than you'll find them at most retail locations if you can wait for them to be delivered.
Lowes, Home Depot, etc. – If they aren't willing to give you free boxes first, you can purchase what you need. They generally stock a wide variety of options and sometimes carry bundles of various sized boxes.
Sizes and costs of moving boxes:
Buying moving boxes seems like it should be cheap — they're just cardboard, right? But a small-home moving kit from Staples, for example, costs a hefty $319. Granted it has everything you need – from boxes of many sizes to bubble wrap, newsprint, and packing tape – but that's a significant cost to add to your moving expenses and purchasing all of those packing materials is not very eco-friendly (there are lots of green alternatives out there).
You can of course purchase boxes in smaller packs: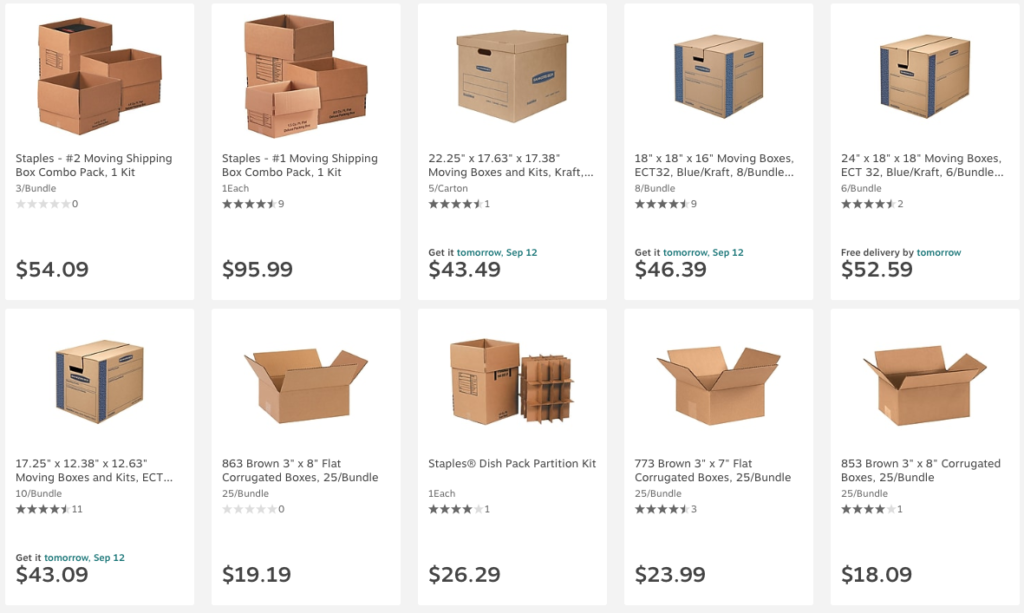 This can be a great way to supplement your free supply or, in a pinch, grab a few more last-minute boxes for those extra items.