Packing can quite easily become the nuisance of moving. It can drag on forever and take over your life – and your space. Thankfully, it doesn't have to!
As with many things in life, it all comes down to the approach. Approaching your packing in a good way saves time, money, space, and a lot of frustration. We've put together our favorite 7 tips for efficient packing. These tips may seem like common sense but trust us – they often get missed!
1. Start Early
We understand you don't always have the luxury of a good, long time until moving day. Sometimes you are moving on a shorter timeline which can be a bit stressful. Still, don't let the stress overwhelm you and distract you from getting on top of things!
No matter the amount of time you have until moving day, start as early as you can with arranging your packing. Don't save it for the last minute – trust us. It's virtually impossible to pack efficiently if you start late in the game.
2. Make a Plan
This one should come bolded and underlined it's that important. Starting with making a plan is crucial to staying efficient. When you have a plan you can stay calm and relaxed throughout the process. Efficiency is highest when you're levelheaded!
Start with making a to-do list and a timeline for when to get these things done. When it comes to packing, it's best to start as early as you can with your fragile items. This allows you to wrap and pack them carefully without a rush.
Next on your list will likely be items you use less frequently. Include in this stage out-of-season clothing or sporting gear. Save for last your daily use items, of course, as you'll need those until moving day.
3. Say Some Goodbyes
Only pack what you want to take. That makes sense, doesn't it? You'd be surprised how easy it is to just pack everything, even if you don't need it. (Let's be honest – who actually needs everything in their house?)
Unless you're following the Marie Kondo lifestyle to the letter, chances are you have some extra stuff lying around. Clothes you haven't worn for ages, books you'll never read again, and hey – how did this second-hand mixer end up in the kitchen cupboard?
When you're creating your plan, start with the "goodbye" phase. Pull together your donations, gifts, and items for sale. Add the passing of these items to your to-do list early on as well. Selling items can take more time than you anticipate.
4. Stock Up
For efficient packing, make sure you can stay in the flow once you get into it. That means having all of your supplies on hand. There are plenty of places to get free boxes and we recommend picking them up from local shops. Then you'll need tape, markers, labels, and things like packing paper and bubble wrap for fragile items.
It's a delicate balance to stock up on supplies without collecting too much stuff. That's why it's helpful to pare down beforehand so you have a good idea of just how much is actually coming with you.
Consider buying specialty supplies like wardrobe or dish boxes. Wardrobe boxes allow you to pack clothing without taking them off of the hanger, making packing and unpacking all the more efficient. Dish boxes will help you protect dishes or glasses as they have specialty separators to avoid clashes in transit.
5. Use What You Have
Not everything needs professional supplies. If your dresser isn't too heavy, you can put lightweight items in the drawers and secure them. You can wrap items in towels, sheets, and pieces of clothing to protect them. Suitcases can double as box replacements.
Get creative and use what you have. This will make for efficient packing, and unpacking will be a breeze – less stuff to dispose of on the other side!
6. Designate a Space
Since you're starting early (right?) you'll have packed boxes around your home for a while. That means you run the risk of staring at piles of packing materials and stacks of packed boxes. Instead, designate a packing space.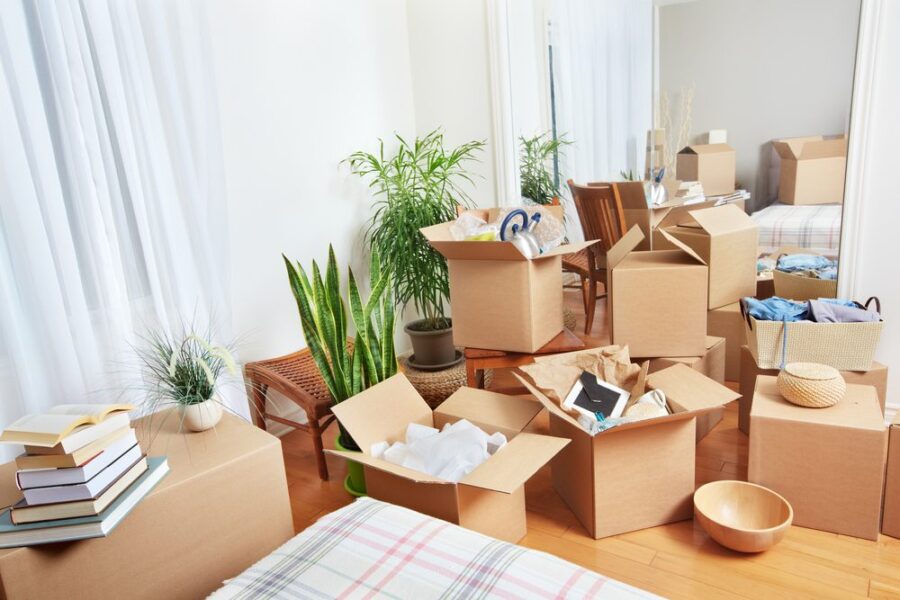 If you have a spare or less-used room, set up a packing corner there. Keep your packing supplies there, and stack your boxes neatly once they're ready to go. Even if you don't have the luxury of extra space, create a corner for the purpose. Do yourself a favor and keep things orderly in this corner so you don't get exasperated along the way.
7. Hire Help
Nothing is more efficient than having someone else pack on your behalf!
What may take you days or weeks will take far less time for those with more experience. Full-service moving companies are expert packers. They'll even save you the steps of finding materials or disposing of them on the other side.
Whether you decide you want help on moving day or you'd like a full-service mover to pack for you, Unpakt can help you find the perfect support. Our easy online tool will connect you with a reliable, trusted mover near you in only a few minutes. How's that for efficiency?