Moving takes effort, organization, and maybe a little patience. There are a lot of things to consider when preparing to move to your new home. Being unprepared for the practicalities can get in the way of your excitement over the upcoming changes.
The bright side is that you can change all of that! With a bit of preparation and planning, you can make your move smooth and – dare we say it – enjoyable!
1. Start Early
Do yourself a favor and start your planning early. Waiting until the last minute means things are bound to be forgotten or left out. By starting early you can take your time and ensure you're not feeling rushed. In fact, getting a head start enables you to follow the rest of the tips on this list with ease.
2. Make a Moving Schedule
Begin 60 days before you move (see? Another chance to start early!) and create a moving prep checklist. Set weekly tasks and benchmarks to keep yourself in a good flow. As you begin it may seem a bit pedantic, but trust us: you'll be happy you took the time to come up with a plan.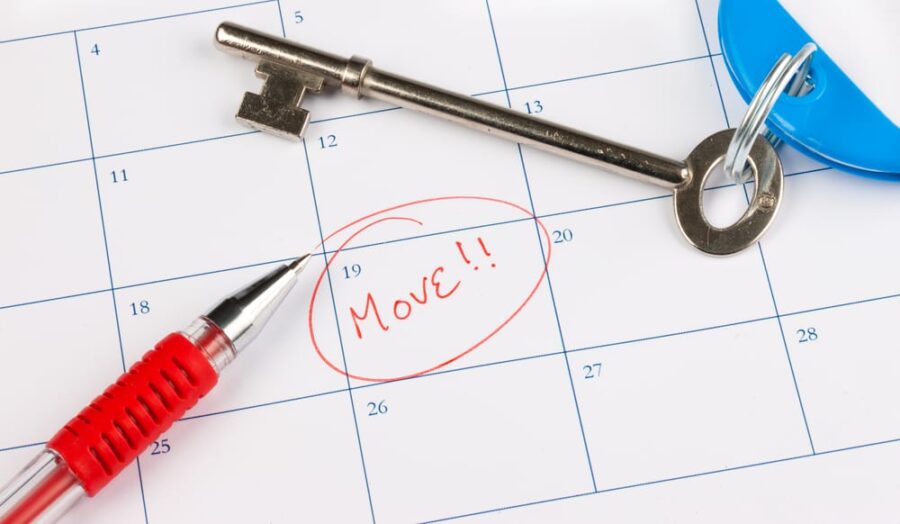 Some suggestions for your list include:
Giving notice to your current landlord
Sorting through your belongings
Taking things to donation, or having a garage sale
Hiring a professional mover
Packing your boxes
Making a plan for your pets and kids on moving day
Submitting your change of address and disconnecting your utilities
Moving Day
Unpacking strategies
Include even tedious details to ensure nothing is left out, and be diligent in following the plan.
3. Downsize
Moving companies tend to charge by the size of the truck, the number of movers, and the number of hours it takes to complete the job. By getting rid of things ahead of time, you'll save on your moving costs.
If that doesn't convince you, consider spending a lot of time packing and moving and unpacking a bunch of stuff you don't use. New places are for fresh starts, and it's best to send your unwanted or unused items to new homes before you head off to yours.
Go room by room and create separate piles for sell, donate, and throw to make it easier on you. If you'd like to sell some of your things, consider online platforms such as Facebook Marketplace, eBay, or clothing sites like Poshmark. You can also go the more traditional route and host a garage sale, or take things to consignment. Consignment shops pay you when your things sell, so get an early start.
4. Understand What Help You Need
Consider what help you might need in your move. There are full-service movers available who will not only shift your belongings but will pack and unpack for you. They'll supply the packing materials and take them away on the other side. They'll also disassemble and reassemble furniture for easy moving.
If you decide to do your packing yourself, you may choose to enlist the help of friends to make it less tedious. Try throwing a packing party, which is a great way to meet and catch up while multitasking on filling boxes. Whether you choose to pack yourself or hire the experts, decide what you need support with and add it to your work plan.
5. Don't Save Your Packing Until the Last Minute
This one may go without saying, but it's such a common challenge that it gets its own tip. Repeat after us: "I will not save my packing until the last minute."
Even after you've gotten rid of things you haven't seen in a while, there are still items in your house that you don't need or use on a day-to-day basis. Start with packing those. Art, decor, and seasonal items can all go into boxes at an early stage in the process.
Saving packing to the last minute often results in disorganized boxes and fragile items not making it through the move. Make sure you give yourself enough time to take an orderly approach and remember to label your boxes. You'll thank yourself on the other side!
6. Find Free Moving Supplies
There are plenty of places to find free boxes. Before you start stocking up on brand new materials, have a look around in your neighborhood and pick some up that would otherwise be thrown out. Liquor stores, bookshops, grocery stores, and others are great places to ask for empty shipping boxes.
You don't need piles of bubble wrap and endless rolls of plastic tape to secure your precious items. Try using tea towels, rags, and newspapers to wrap them in when packing.
7. Choose Your Move Date Strategically
When you choose to move will determine the trucks and movers available, and will impact the cost of your move. Weekends and holidays tend to be in higher demand with moving companies, so the prices increase. The long, clear days of the summer months are appealing for house moves, meaning movers are often booked. If you can help it, move in the middle of the week. This will help ensure trucks and equipment are available, and that there are movers ready to do your heavy lifting.
8. Hire Movers
Book your moving company early and tick it off the list. Once you're clear about what help you'd like, and how much stuff you're bringing, you'll be able to easily receive an accurate quote from a professional mover. Clarify whether there are extra charges for any large or bulky items you have. If you have a complicated entry or parking availability at either home, let them know so they can be prepared. By hiring a professional mover to help you out, you'll save a lot of stress (and sweat) on moving day.
9. Pack An Essentials Box
At the end of a long moving day, the last thing you want is to dig through boxes in search of bedsheets and a toothbrush. Packing an essentials box now will help future you rest well on your first night.
Pack a box or two with things you will need on your first night including sheets, pajamas, toothbrush, and other essentials. It's also helpful to pack a few things for the kitchen including plates and glasses, and don't forget the coffee pot!
10. Don't Forget Your Utilities and Mail
Hopefully you've included this one in your moving plan, and set yourself some reminders. You'll need to alert your utility companies of the final day you'll be responsible for utility usage in your home. If you have metered utilities, take photos as you leave so you have records. If you're moving nearby and using any of the same companies, set up a transfer of service. The United States Postal Service recommends filing for mail forwarding two weeks in advance, so keep that in mind to avoid missing any important pieces of mail.