If you have a favorite television show then chances are pretty good that you know your way around the home of the main characters like it is your own house. Have you ever wondered where the infamous house is? Well, in some cases, they are nothing more than a set created to look like a house, but most of the time they are actual homes that you can drive by and see. Below are a few popular favorites.
Sex and the City
In the show, Carrie Bradshaw's popular pad is at 245 E. 73rd Street, which is between Park and Madison. However, the real apartment is at 66 Perry St. Why wasn't an apartment used on 73rd Street? Well, that's easy; no stoops! It just would not be the same without those stairs to sit on. A real rental of this size on 73rd would be right around $3,000 per month, a price a new journalist with a shoe obsession would never be able to afford.
Entourage
The 9,000-square-foot Tucson-style villa used in the seventh season of Entourage echoed of sophistication. It is unknown why Vincent Chase needed seven bedrooms, eight polished marble bathrooms, and seven fireplaces, but fans loved every inch of it. Of course, the mosaic-tiled pool and waterfall were standout features. The house went up for sale in 2012 for $5.75 million but sold for around $4.2 million. Someone certainly got a good deal on that home!
Seinfeld
Considering every episode of all nine seasons was predominantly filmed in Jerry Seinfeld's apartment, fans learned to feel right at home in the Upper West Side space. However, what most do not know is that although his address in the show was 129 West 81st Street, the actual apartment used was at 757 New Hampshire Boulevard, Los Angeles, California. The street in California very much resembles the one it mimics in New York City. You couldn't help but love his mismatched furniture and two-toned walls. It was clearly decorated by a guy.
Beverly Hills 90210
With its blue awnings and white decks, it is easy to recognize this well-known beach house a mile away. This was the cheapest place Donna, Kelly, and David could find to live off-campus? If you want to see this Venice Beach apartment, you are going to actually have to go to Hermosa Beach to find it. The legendary structure went up for sale in 2011 for $9 million. You can now rent a room here to stay on vacation at around $700 a night.
Friends
It is a good thing this was Grandma Geller's hand-me-down, rent-controlled apartment or Monica and Rachel would never have been able to afford this sprawling space. In Friend's this was apartment 20 in Greenwich Village. In real life, this apartment is at the corner of Bedford and Grove in Greenwich Village. The realism is appreciated, but an apartment in this spot would run around $4,000 per month, yet Grandma was able to pass it to her granddaughter at $200 per month.
Three's Company
Finding this apartment building has been like finding a needle in a haystack for many fans. On the show, Jack, Janet, and Crissy lived in apartment 201 of the Roper Apartment House in Santa Monica, California. The show was filmed using a set, but there is an actual building shown in several episodes and in the opening credits. The structure was found a couple years ago, but it is definitely not an apartment building. It is actually a single family, 3,204-square-foot home with four bedrooms, and two bathrooms, and was built in 1925. It looks nearly the same today.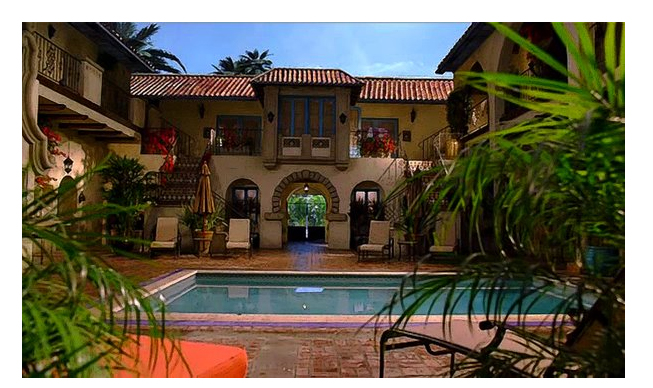 Melrose Place
Melrose Place is the fictional apartment complex on Melrose Avenue. However the building's actual name is El Pueblo Apartments, and it is located in Los Feliz at 4616 Greenwood Place. It still looks the same today, only minus Sydney, Jane, Alison, Michael, Jake, and of course, Amanda.