As sad as it is, winter is coming and that means if you are a homeowner or a renter, you will have to winterize your home before temperatures drop. Fortunately, even if you don't consider yourself a professional DIYer, there are many projects you can do to prepare your home for the cold months ahead.
Caulk Your Windows
Since many of us do not have energy-efficient windows, or storm windows for that matter, air can easily pass through the cracks and edges of your windows, letting out the expensive heat you're paying for. As you won't be opening these windows anytime soon, a smart and easy winterizing tactic is to caulk.
Caulk is an easy solution that covers all cracks and edges. It's available at virtually every hardware store and very easy to apply. Once added, be sure to always smooth out the lines with a wet finger. This will keep everything even, looking just as though a professional did it.
Of all the tasks we mention in this article, this will be the simplest and yet, most effective winterizing tactic.
Buy Draft Stoppers for the Doors
With the windows out of the way, we can focus on the doors. At many local hardware stores, you can buy draft stoppers (many stores call them snakes) that will keep air from leaving and entering below your doors.
If you don't want to spend the money, you can always create your own snakes at home. Many homeowners and renters just roll up a bath towel and put it under the door. Others fill old pillowcases with sand and place under the door. It could be a great arts and crafts project for the kids.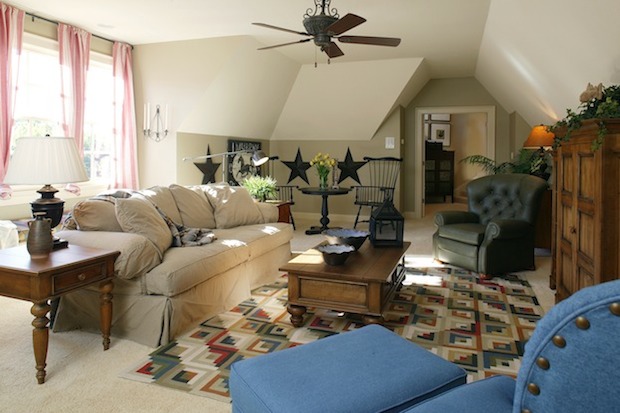 Reverse Rotation of Ceiling Fans
Heat does not stay put. It rises, but a terrific way to combat your expensive heat from rising is by reversing the rotation of your ceiling fans. Ceiling fans should run clockwise in the winter. Many fans have a simple switch above the fan and others just use the cord hanging from the ceiling fan itself. Once complete, that hot air can gently be pushed back down, keeping you warm even if it's freezing outside.
Replace Furnace Filters
Homeowners and landlords alike should change their furnace filters every few months, but once winter rolls around, every 30 days is highly recommended. If you have not already done so, head to your nearest home improvement store and stock up on filters. The earlier you do, the cheaper they will be.
See how to change your furnace filter with our friends from MyFixItUpLife below:
Get A Furnace Checkup
It seems no matter what you do, certain appliances and home systems break at the worst time. Well, the best way to minimize the risk is by getting a furnace checkup. No appliance is more relevant in the winter months than your heating systems and furnaces. We highly recommend locating a professional in your area to come and make sure everything is ready to go.
Empty Your Pipes
This task maybe a few weeks down the line, but the best way to prevent frozen pipes (and a big invoice later) is to empty your pipes. Draining the pipes ensures that nothing will freeze inside. Many pipes have manual valves you can open once you turn off your main water line. You can open the waste valve to eliminate that extra water as well.
Insulate Your Pipes
Sticking with HVAC, another way to prevent or combat the possibility of frozen pipes is by wrapping them with insulation. You can get pre-slit pipe foam at most hardware stores. Buy materials with the highest R-value.
Let Sunlight in During the Day
Believe it or not, the natural sun can increase the temperature of your living room or kitchen. All you have to do is open the drapes and let it shine in. This tactic will certainly not have as big an effect as changing your filter or caulking your windows, but it certainly can't hurt. After all, natural heat is always good.
Leave the Oven Open After You Cook
Another out of the box heating idea revolves around cooking. Many of us like to cook extravagant meals in the winter. After all, it's cheaper and warmer to stay inside then go out. After you're done with cooking, leave the oven open for 5-10 minutes. While it's not the safest tactic, especially with children around, it does work. Try it out next time you're cooking your famous chili!
Repainting Before the Winter Months
Studies show that paint dries perfectly between 50 and 85 degrees. When the air is too cold, paint has a hard time drying evenly. You can be more selective with your contractors before the winter months, and it will probably be easier for them to work around your schedule. Additionally, because the fall season is slower, there are chances that you will get a better rate.
Winter is dark and cold – that's why we spend so much time in our apartments, right? Be proactive and ensure you keep spirits high on those nights when the sun sets before you even get home from work. Even just freshening up some of the trim will make your place feel brighter. Glossy whites on your base moldings, doors or ceiling trim will help reflect light throughout your place and will give your rooms a crisp warm feeling. Also, if your ceiling is painted in an off-white or neutral shade, consider painting it a bright white. This will help make your room feel more open and well lit, even if it's dark outside.
Jacob Hurwith is the content marketing manager at ImproveNet, your source for all home improvement resources. Before joining ImproveNet, Jacob worked for various publications throughout Chicagoland including the Chicago Sun-Times. When he is not writing, Jacob enjoys keeping up with Chicago sports, catching up on his favorite TV shows and of course, running along Lake Michigan.