You managed to find the perfect place in town, meaning you won't have to move far from your friends, family, and favorite cafe. It should be an easy enough move, right? After all, it's just around the corner from that brunch spot you love and you go there all the time.
In-town moving is certainly easier than shifting across the country, but there are still things to do to get prepared. You'll need to spend some time sorting and packing your things and planning. We've put together a checklist for moving across town, to help you get organized and make the most of your time and energy as you prepare for the big move.
Go Through Your Things
The best place to start (and hopefully it's a head start) is to go through your belongings. Why pack and shift things that will only crowd your new garage or closets?
The "divide and conquer" method is the best approach so you don't dig through your entire home all at once. Choose to either go by category or room and start to look for opportunities to downsize. When you collect piles of things you won't keep, make sure you separate the sell pile from the donate pile so you don't sort things more than once.
Even though you're only moving across town, don't bother to bring more than you need. When it comes time to look for a mover (that's further down the list), their quotes will be based partly on how much stuff you're taking with you. That's why this step is first on the list!
Sell and Donate
Once you've gone through and separated out the things you plan to get rid of, it's time to move on to the next step. Don't let those piles crowd you until you run out of time and end up taking them with you!
Decide how you want to tackle your sell pile. Could you have a garage sale? Put things in consignment? Use online tools such as Craigslist or Facebook Marketplace to find buyers? These methods often take a bit of time and patience, so starting early will alleviate some pressure.
When it comes to donating things, you may have people in mind to give them to. This is a great chance to connect with friends and take a break from the practicalities of moving. Alternatively, you can take them to a donation center in town that you want to support. Make sure you understand its hours of operation and rules for drop-offs, then set a time to take your things there.
Hire a Mover
Once you're down to only the things you're taking with you, you can start to get quotes from moving companies. When you're moving across town, movers typically base their quotes on how many people and how many hours it will take to do the job. To get an accurate quote, be clear about how much stuff you're bringing. Communicate with them if you have large, oversized furniture, antiques, or pieces of art. These things often need special equipment and care, so you'll want to hire a mover that is up for the task.
People often think of movers as the people who help you get from point A to point B safely, and that's accurate! However, there are full-service moving companies that will help you with other details on this list. Full-service movers will help you pack, disassemble furniture, move, unpack, reassemble, and even dispose of the packing supplies. If you choose to go with a full-service moving company, you can already cross a couple more things off your list!
Make Some To-Do Lists
Even if you're not much of a list maker, trust us, lists will make your move go a lot smoother. Even with experience and planning, there is a lot to be done in planning a move, not to mention the move itself. Making lists will help keep you organized, and make sure nothing gets missed.
Mark Your Calendar
Who doesn't love a good countdown?
This one is a bit like making lists and gives you a chance to keep track of things that are upcoming. You'll see further down in this list of tips that there are things that require stages of planning and setting calendar reminders will help you keep track of the stages of your in-town move.
Find Some Packing Supplies
Hopefully, by now you have a good grasp on what you need to pack, so now you just need to get the supplies. There are plenty of places to get free moving boxes, like liquor stores, grocery stores, Craigslist, and even restaurants. Make sure you get sturdy boxes to protect your stuff. This is also a good moment to consider any electronics you have. If you don't have the original boxes, make sure you get new ones that can snugly fit these delicate items for transport.
You'll also need tape to seal the boxes. For wrapping and packing fragile items, newspaper works in most cases. Blankets and towels are also great for protecting these items. Make sure you get a marker to label the boxes, too.
Update Utilities
Coming closer to your moving day, you can start to alert the utility companies of your move. Call your cable, Internet, water, electricity, and any other provider with whom you'll need to schedule an appointment. Some companies require a week's notice for a change in service, so it's best not to save this one for the last minute.
Forward Your Mail
This one is surprisingly easy to forget, so it gets a whole tip just to remind you. Make sure you register your address change with the postal service and have your mail forwarded. Despite many things these days happening online, you still don't want to miss that wedding invitation or jury summons (well, maybe…) when it comes.
Pack the Small Things Early
Rather than burning out by packing the whole house at once, try packing in stages. A great place to start is with small and decorative items. Your space may look a bit stark without wall decoration, but it could motivate you to dress up your new space when you arrive!
Things such as pieces of art, pictures, and other decorative items can be delicate. Starting early means you can put time into ensuring they're well wrapped and protected for the big day.
Plan for an "Essentials Box"
After all of the busyness of moving, the last thing you'll want to do is dig around looking for a plate for dinner. And… oh… where's the phone charger? Packing an "essentials box" helps to make sure you have all of the things you need for the first few nights in your new home.
This box (or a couple of boxes) will ensure you have bed linens, towels, toiletries, bathroom necessities, plates and cups, and the crucial one you don't want to miss on your first morning: the coffee pot. Think of the things you'll need to start and finish your day and make sure those things are easily accessible.
Pack and Label Boxes
When packing your boxes try to stay organized, you'll do yourself a lot of favors for the other side. Pack boxes by room or by category. Why should you dig through a box of winter clothes in order to find your crockpot?
Make sure that while you're packing, you're also clearly labeling. Write the room or contents on the sides, and on the top. This will help you (and your movers) easily identify what's in the boxes and where they should go when you get to the other side.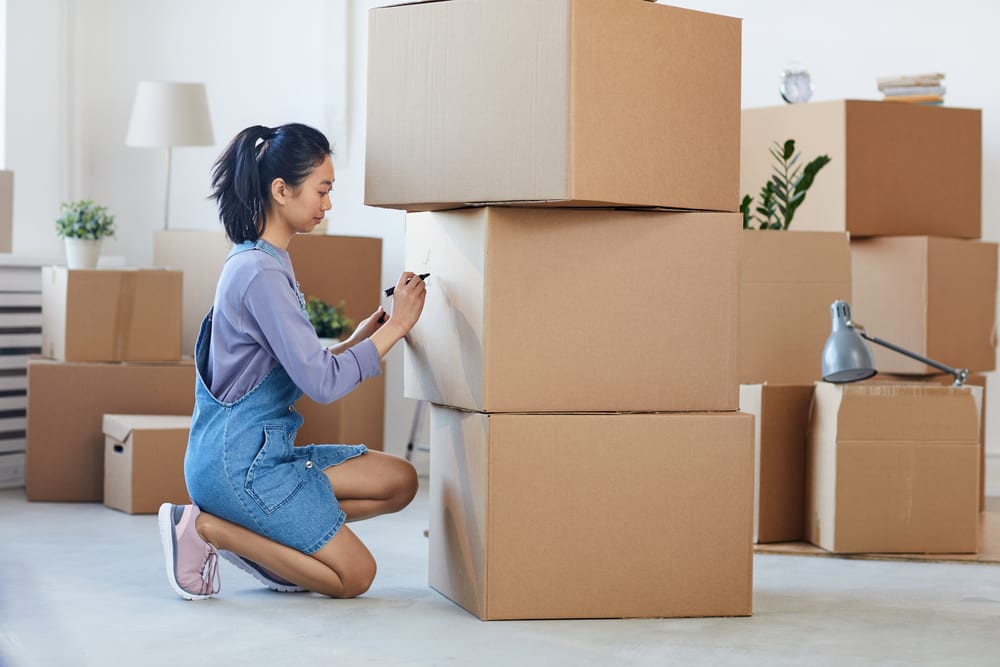 Say Goodbye
Finally… Moving day has arrived!
When the movers arrive, be supportive, but give them space to do what they do best. They'll come through and pick up your well-labeled, well-organized boxes that you've spent time preparing, and get them loaded into the truck. While they're doing that, make sure you've taken everything out of your home to come with you. Check power outlets for chargers you may have forgotten, and the bathroom and kitchen for things that may have been left in cabinets.
Once all of the boxes are in the truck and ready to go, take a moment to say goodbye to your old home as you set off on your new adventure. You may only be moving across town, but it's time for a new beginning!
…And Hello!
When you arrive at your new home, your moving company will load all of your boxes into your new home. They will reassemble furniture that needed to be taken apart to move and will make sure your things arrive safely.
This is the moment of relief, as you arrive in your new place and begin to get settled. But before you start that, don't forget to tip your movers! They've done a lot of hard work to get you here, so take a moment to pass some appreciation.