Moving day is approaching, and you and your roomies are so excited. Starting a fresh chapter in a new place is always nice, and made even better when you're moving with people you love. Of course, moving with other people means more… moving parts. There are things to consider with others that you wouldn't if you were on your own.
We've compiled some tips for moving with roommates, so you can arrive just as friendly as you left.
Have regular check-ins
There will be a lot to take care of along the way, and it's easy to make assumptions. By not checking in, you may assume that your roommate will take care of bits and pieces. It's best not to leave anything to chance.
Make sure you check in with one another regularly, so it's clear who is taking care of what. If you're on different schedules, make sure to take care of it via phone or text – just make sure you do it. Check to see who will cancel the bills, schedule the repairs, or hire the movers.
Give yourself time
Moving out of your place inevitably takes longer than expected. Between packing, cleaning, repairs, and unpacking, it can be a time-consuming process. Make sure you give yourself enough time so you're not rushed through any of it. Planning is key.
Take the time for packing, including sorting through your things and getting rid of what you don't want. The more time you give yourself, the more care you can take in sorting and downsizing. This will also save you time and energy when the moment comes to pack, move, and unpack. If you can help it, try to coordinate some overlap in your leases so can take care of the cleaning and closing of your previous house without a rush.
Chat about the bills
Many utility providers require a month's notice before disconnecting a service, so keep that in mind. Decide who will check with and alert the utility companies, and collect the final invoices. Know that you may also have cancelation fees if you're discontinuing your service while under contract, so make sure you are in agreement over financial obligations. The last thing you need is arguments or disagreements about payments.
Make lists
Once you've had some discussions about the plans for your move, it's good to make clear lists about who will cover what. Add dates for when these things should happen so that nothing gets lost in the shuffle.
Who will cancel the bills? Collect the moving supplies? Coordinate the moving company? These are all important factors to be clear about with your roommate(s). Put the list somewhere central – like the fridge – and let everyone cross off what they've done so it's clear where things stand.
Separate belongings
Whether you're moving together or going your separate ways, moving out of your current home is a good moment to consider the ownership of shared items around the house. Even if you're heading to the same place, it's good to get clear about who owns things like furniture, kitchenware, and electronics. If there are big-ticket items that are shared, decide who they belong to so you can start your new home with a mutual and clear understanding.
Hire a moving company
Hiring someone else to do the heavy lifting is a quick way to take the stress out of moving. More than that, they can even take the stress out of the prep work. If you really want to save some time and energy, you can hire a full-service moving company who will pack your things, disassemble your furniture, move everything to your new home, and unpack and reassemble on the other side.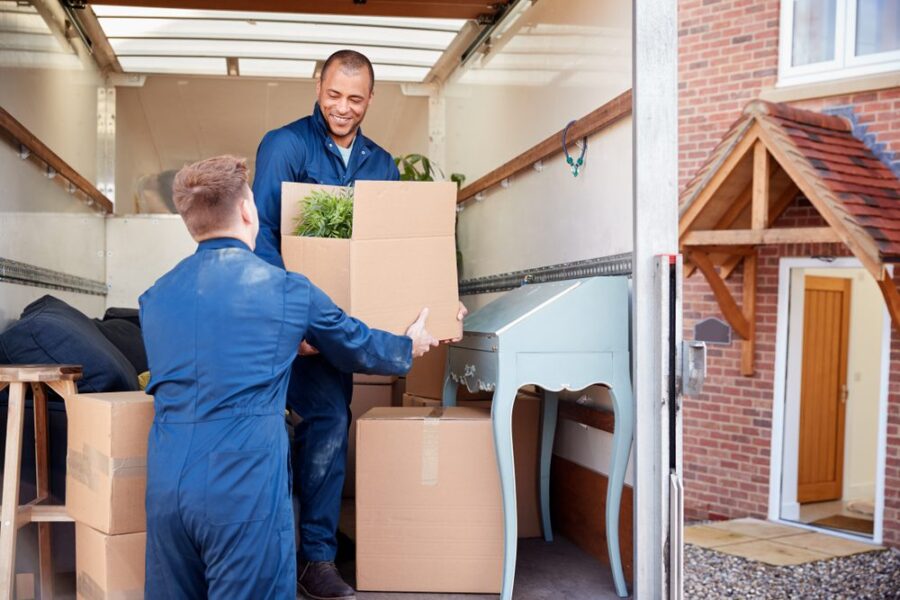 Decide with your roommate just how much help you'd like. Make a decision who will speak to the moving company and make the arrangements. There are plenty of ways to minimize moving costs, so don't count this option out right away.
Confirm your budget
Moving can get expensive if you're not paying attention. When you're splitting costs with another person, it's good to determine your budget together. This will help avoid surprises – and conflict – along the way.
Try pooling a communal fund, and keeping an eye on what comes out for the shared expenses. This will help ensure one person doesn't get caught with the financial burden and doesn't need to chase up another for repayment.
Get some cleaning help
Landlords can be pretty particular about the nitty-gritty details, particularly when they're related to your deposit. If it's an option for you, it's best to hire a professional to help you prepare the apartment for inspection after your move.
You'll undoubtedly be exhausted after a big moving day, and looking forward to getting settled in your new place. Plan your schedule to give yourself a couple of days to bring a cleaner in and make your previous home shine. Each person living in the house may have different definitions of what it means to be "clean", not to mention, who's mess is where. Hiring a professional and sharing the cost is an easy way to ensure your home is ready for inspection.
Celebrate
After all of those practicalities, don't forget to celebrate a job well done! After you arrive on the other side, make plans with your roommates to explore your new neighborhood. Reward yourselves with a nice dinner, or go for an adventure together nearby. If you all happen to be moving to different places, this is a great way to come back together and keep in touch.