Who doesn't love a home full of interesting hanging plants, funky cacti, and big leafy greenery? It makes a home feel more alive, no doubt; but it can also make moving day a bit of a challenge! Whether you're moving long-distance or staying local, we have the tips and tricks you need. Here's our explanation of the best way to move plants.
Decide what plants you will move
It can be a tough pill to swallow, but not all plants will do well on a long-distance car ride. Some are quite fragile and might not survive any drastic temperature changes on the ride. This is especially true if you will be moving during the heat of summer or the cold of winter. Even more so if you will be moving long-distance (more than a day's drive). Have a look at your collection and determine what plants you will prepare to move, and what plants will need to be rehomed before moving day.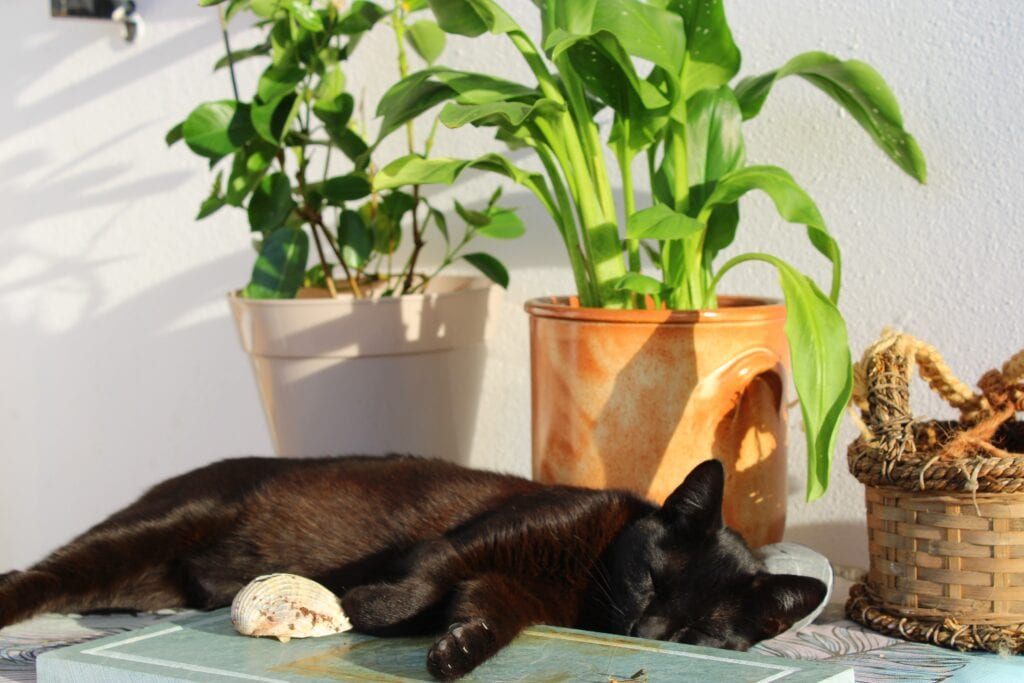 Prepare your plants for the move
We all try to keep our plants healthy anyway, but now is the time to get them in top shape. A few weeks before you move, give your plants food if necessary, and trim off any dead branches or leaves. Give them a good pruning where necessary, and consider repotting them in plastic pots. This will make transporting them easier. They'll be lighter and easier to tuck into a moving box right next to each other. You'll also be less likely to have an unfortunate accident when a heavy pot tips over in the back of your car! TheSill.com has tips for repotting your plants again once you are settled.
The best way to move plants without killing them
This is an obvious goal, but there are a few not-so-obvious things to keep in mind!
Wrap your plants. If you are moving in colder weather, you can use a large trash bag to cover your more sensitive plants to protect them from shock. Place them in the bottom of the bag and lightly tie the top. Make sure not to cut off the air supply!
Protect the branches and leaves. If you aren't worried about temperature, use a sheet or old pillowcases to wrap your plants. This is the best way to move large plants and will protect the branches and leaves from getting broken while you are moving.
Hang your hanging plants. Use an old pair of nylons or other soft fabric to gather the hanging leaves, then hang your plants from the hooks in the backseat of the car. If you have a plethora of hanging plants, you might tie a sturdy rope from one side to the other. In that case, consider tying knots along the rope to keep each hanging plant separated. 
Water them appropriately. Travel is stressful for plants no matter what. Make sure they have ample water but aren't swimming in mud, especially if you are moving in the colder months! 
How to move plants in a car
Small plants can easily be packed into regular cardboard moving boxes or plastic totes. For plants that are still in ceramic or otherwise breakable pots, wrap each pot in packing paper. Leave the paper open to avoid covering the top of the plant. Neatly organize them in the bottom of the box and fill any empty space with crumpled packing paper to prevent them from falling over. If possible, close the box while keeping the flaps at least partially open. If you'll be moving your plants long-distance, punch holes in the box to allow ample airflow.
To move larger plants, pack only a few plants in each box with plenty of crumpled packing paper. Properly wrapped, the branches should be ok; the important thing here is to keep them from tipping over. If you have plants with a lot of big leaves or fragile branches, stuff some of the space around the leaves or stems to maintain as little movement as possible during transit.
A new home for your plants
As soon as you arrive at your new home, carefully unpack your plants. Make sure they have an appropriate amount of sunlight and water for each plant, and then let them rest while you settle in. It isn't uncommon for plants to go through a period of shock. This is particularly likely if they were exposed to any extreme temperatures along the way! So give them a little time before you try to repot them into bigger pots or do any major reorganizing.
To move your plants to a new home takes some preparation and care, but we know you love your plants! Besides, our professional movers will take care of the rest while you make sure that the succulent collection travels safely. Get a guaranteed moving quote today!