The days of pretending to sleep on a bunch of mattresses in a showroom, then haggling down the price are over. Big Mattress is quickly being replaced with online-only retailers that boast risk-free trial periods, free shipping, and a much smaller selection for about half the price. And the sleep doctors, body-alignment specialists and bedding experts say that's for the best: Most people will be happy with a neutral mattress and about 30 days to give it a real-life try. These four mattresses were universally approved by Review.com's testers, and they each have generous trial periods and easy enough returns that there's no way to go wrong.
Up until two years ago, if you wanted a new mattress, there was really only one way to do it: in person. You headed to a mattress store, bounced around on a couple (or a couple dozen), and negotiated the price of the one you liked best with the salesperson working the floor. That's right: negotiated. The traditional mattress industry — Big Mattress — operates like car dealerships do. Each shop's owner can arbitrarily decide what they want to charge you for one of their models, and the markups are dramatic, in the range of 30–50 percent.
It's an incredibly confusing retail consumer space and it's made that way on purpose.
Our Favorite Mattress
Saatva Loom & Leaf Mattress 
A luxurious mix of comfort and support. 
We loved the online experience as soon as we tried it out, and the experts confirmed our feelings: There's no better way to know if you love a mattress than to actually sleep on it, in real-life, for weeks, not minutes on a showroom floor. We found the "lack of choice" was awesome, too — we'd happily sleep on any of our four finalists, and comparing them almost seemed to over-complicate the issue.
The Saatva Loom & Leaf mattress stood out for a few reasons. It's the only one that didn't come vacuum sealed inside a box. It's the only one that has handles sewn in (more important than you'd think!). It's the mattress the Pope sleeps on when he's in the US. And it's the one that all but two of our 15 testers picked as their favorite.
We discovered Saatva because of the brand ties for second place in owner satisfaction on Sleep Like The Dead. The company made its name with innerspring mattresses before launching a memory foam offshoot, Loom & Leaf, and we chose its most-popular Relaxed Firm model to test (Loom & Leaf also has a Firm option). It's constructed with four layers of "plant-based" foam: a high-density support core with two inches of "transition layer," followed by 5-pound memory foam, then topped off in a squishier, 4-pound foam swirled with gel and laminated with a medical-grade cooling gel. Everything is wrapped in a quilted organic cotton cover. Got all that?
Yeah, we didn't really either.
Parsing through the construction and design of various models is one of the most challenging aspects of mattress shopping — always has been, always will be. Is 5-pound foam better than 4-pound foam? Are lots of layers better than one? Does gel make a difference? Loom & Leaf does an admirable job trying to lay it all out. Its website has diagrams as well as a pop-out Layer By Layer Guide that explains what each layer is made of and what it's supposed to do. In fact, all our top mattress picks do this to a certain extent. Part of the disruption game is radical transparency, with mattress brands exposing the guts of their models as opposed to relying solely on phrases like "innovative cooling features" (Tempur-Pedic) or "superior soft conforming foam" (King Koil).
The Loom & Leaf website details the layers and components that make up its signature mattress.
At first bounce, the Loom & Leaf is the firmest-feeling of all the models we tested — although two of our testers who prefer really firm mattresses scoffed at that description. (If you're a firm-or-bust sleeper, skip the Relaxed Firm model we tested and head straight to plain old "Firm.") One tester said this mattress felt the sturdiest of the four we looked at; another described it as "dense."
Loom & Leaf is our top pick, but when we asked our 15 testers if they would have been equally satisfied with one of the other three mattresses had they not tested the Loom & Leaf, they unanimously said yes.
Most Luxurious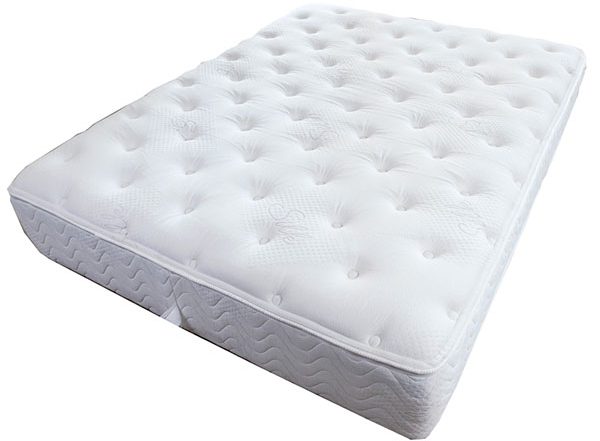 A two-layer foam mattress wrapped in a decadent pillowtop — and the longest trial time of any we tested.
If you're looking for luxury, BedInABox's Silk Symphony is it — although you wouldn't know it from the state it arrived in. The box was decrepit and covered in oil stains, but once unveiled, it started racking up superlatives: the plushest, the most satisfied customers on Sleep Like the Dead, and, at $1,449 for a queen size, the most expensive too. Two of our 15 testers ranked BedInABox their favorite: They liked the "squishiness" of this pillowtop over Loom & Leaf's but thought it felt more supportive than either Tuft & Needle or Casper.
Construction-wise, it's more streamlined than its pillow-topped counterpart — just a fat layer of support foam, topped by a few inches of gel-infused memory foam, and two more inches of thick pillowtop covered in natural silk. BedInABox has nothing to hide, its cover unzips to reveal it all. We love this level of transparency and appreciate BedInABox all the more for it.
BedInABox offers four mattress models, or really, four different covers to the same core mattress. The cheapest model ($849 for a queen) is just the core: the support foam topped with the super squishy gel-infused foam, wrapped in a thin cover. Unzip the pillowtop on the Natural Silk Elegance, and there it is. We preferred the addition of the pillowtop. Without it, you sink quite deep into the foam.
Be forewarned, the BedInABox has a distinct "off-gassing," a chemical odor that is common in memory foam mattresses, which was present for all four of our finalists. BedInABox's has lingered the longest: going on seven days as of this writing. Additionally, BedInABox customer service reps were the least knowledgeable. When we inquired what weight our mattress could accommodate, the reply was essentially, "any and all weights!" — which we can assume just isn't true.
At 120 days, BedInABox has the longest at-home trial time of any brand we tested; even more interesting is that it requires you to keep it for at least 60 days before submitting a return. If you know you don't want it after month one, you'll have to find a place to stash it before you can schedule a time for someone to come pick it up.
Best Cheap Mattress
Tuft & Needle Mattress 
Nearly half the price of its competitors, but with impressive ratings and good feedback from all of our testers. A great mattress for just over half the price of its co-disrupter, Casper.
Tuft & Needle is a top pick on Consumer Reports, garnered 4.5 out of 5 stars from nearly 5,000 reviews on Amazon, and ranks in the top five brands on Sleep Like The Dead. A queen-size mattress will only set you back $600 — it's one of the cheapest mattresses on the market. Consider us impressed.
Tuft & Needle doesn't deliver that luxurious floating feeling you get from most hotel mattresses. To get that hotel feel, you'll want to go with the hotel industry standard: a pillowtop. Pillow tops aren't pure marketing mumbo jumbo. It's an additional layer of quilted foam that really does make a difference: Non-pillowtop mattresses, though usually cheaper, feel utilitarian and pillowtop feel truly pillowy.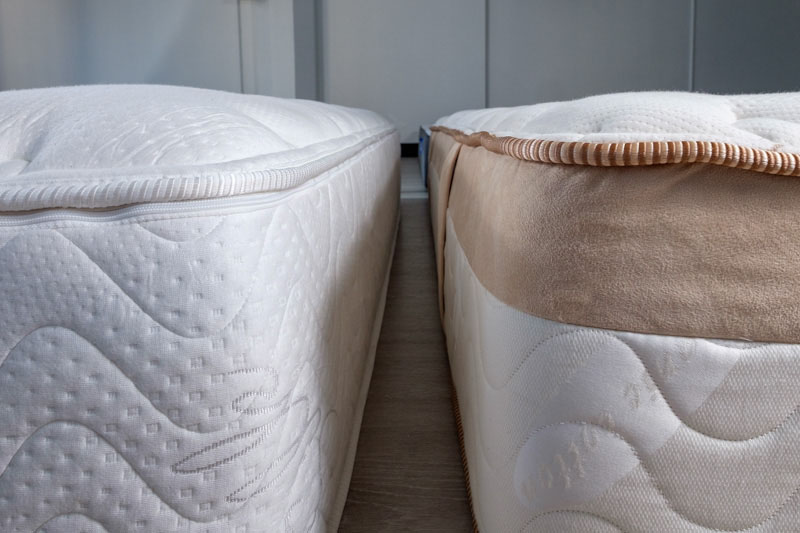 We Liked It, Just Not As Much
More expensive than its foam competitor, Tuft & Needle, and ranked least comfortable of our four finalists by every tester. But, if it were the only one to arrive, we'd all have been happy with it.
If we were to rank them though, one of the most well-known disrupters was our least favorite: The Casper (there's only one model, so it's either love it or don't) was a little too squishy for the Goldilocks among us, and some testers felt like it was about to bottom out. All 15 testers ranked the Casper as their least favorite, saying it felt too squishy and like quicksand. One tester, who was seven months pregnant, said she had the hardest time getting up out of it; another complained that he was going to "bottom out" if he sat or kneeled instead of lying flat.
Can You Really Buy a Mattress You'll Love Online?
Even as the world goes from bricks to clicks, many people are still wary of purchasing a mattress online. In a survey we conducted of nearly 550 Americans, 79 percent reported that buying a mattress online without testing it first was "too risky."
Our Picks for the Best Mattress
No matter what Casper, Tuft & Needle, and their co-disrupters claim, a single mattress isn't going to solve the sleeping woes of every individual. For better or worse, it all comes back to personal preference, which can change as you age. But rest easy. After talking with sleep experts, chiropractors, and even some hoteliers, we discovered that most people are absolutely satisfied with relatively few options. (It's not like you get to pick out your mattress when you stay at a hotel — and who doesn't like a good hotel mattress?) Most people do well with the "Three Little Bears" approach to mattresses: neither too firm nor too mushy.
To make our top picks, we scrutinized the shopping experiences of various online mattress retailers, examined ratings on Consumer Reports and mattress review sites like Sleep Like The Dead, and had four of the best shipped to our office to test out. We had our testers try the Loom and Leaf by Saatva in Relaxed Firm, BedInABox's Silk Symphony Memory Foam Mattress, and the signature models from both Casper and Tuft & Needle.
The good news? They're all supremely comfortable — even our least favorite, The Casper — and you really can't go wrong. Of the four mattresses we tested, two had pillow tops, and that proved to be the most notable differentiator of all. Lying down, these pillow tops are plush and you definitely feel like you're sinking in, but compared to the non-pillowtop mattresses we tested from Casper and Tuft & Needle, you will feel a little more propped up. If you're someone who thinks hotel beds are the epitome of comfort, you'll definitely prefer a pillowtop.
The bad news is the returns every online mattress retailer promises aren't as painless as advertised. They all require some version of submitting a return request, waiting up to 48 hours for a reply, and scheduling a pickup (Tuft & Needle's first available pickup wasn't for another 30 days!). It's not effortless, but it's not any worse than trying to figure out if you like a mattress in a showroom, bartering to get a price you like, carting it home, realizing it's not the one for you, and then figuring out how to get rid of it.
One last downside: Loom & Leaf doesn't have particularly speedy service. For our mattress to be delivered in Seattle, we were prepared to wait between nine and 18 days for delivery; a customer service rep says it can take even longer if you're further away from a local delivery hub. Saatva hand-crafts all its mattresses (in the US), which likely contributes to the time lag, but all the other mattresses we tested had one-week-max shipping times. You can even buy Casper and Tuft & Needle via Amazon Prime with two-day shipping. It's up to you if the slower ship time or $99 fee is a deal-breaker — we don't think it is.
The Tuft & Needle doesn't have many layers — there are just two: a "supportive base layer" and a top layer made of a proprietary foam that claims to offer gradient support. The more pressure you apply, the more support you receive. Do we believe in this "revolutionary technology"? Maybe a little. Tuft & Needle is firmer than the memory-foam Casper (although Consumer Reports measures both as a medium), and our testers said they felt more supported. Tuft & Needle claims to be able to support a whopping 500 pounds per side, the most of any mattress we looked at. Surprisingly, it's also one of the lightest mattresses we looked at, weighing in at just over 70 pounds. (The Casper, which weighs about the same, can only handle 250 pounds per side.)
One thing is certain of any foam mattress: The closer you get to the edge, the less supportive it will be. On both the Tuft & Needle and the Casper, you can collapse the edge of the mattress all the way down to the ground if you press hard enough. If you are sharing a bed, are heavier than average, and/or need a lot of space, upgrading to a king-size mattress may be your best bet.
One of our editors (weighing in at 175 pounds) tested the compression of our four finalists, with the Loom & Leaf (top left) and BedInABox (top right) faring much better than the Tuft & Needle (bottom left) and the Casper (bottom right).
Tuft & Needle offers a 100-night trial period and will arrange to have your mattress picked up by a local charity if you choose to return it. With that, though, you're on the charity's time — when we called to coordinate our donation, Seattle's Salvation Army wouldn't be able to schedule a pickup for more than a month. If you can donate your mattress without a pickup, you can send a photo of your receipt and receive your money back that way.
Mattress Reviews at a Glance
| | | | | |
| --- | --- | --- | --- | --- |
| | Loom & Leaf by Saatva | BedInABox | Tuft & Needle | Casper |
| | Our Favorite | Most Luxurious | Best Cheap Mattress | Our Least Favorite |
| | If you're after a hotel-like feel, you'll want a pillowtop like this. Its layered foam design is both supportive and immediately comfortable. | The plushest!  It's serenely squishy, but you'll pay a few hundred bucks more for it. | This no-frills foam mattress blew its competition, the twice-the-price Casper, out of the water. | It's more expensive than the Tuft & Needle, but no more amazing. |
| Price* | $1,098 | $1,599 | $600 | $932 |
| Trial Period | 75 days | Minimum 60 days, maximum 120 days | 100 days | 100 days |
| Weight Limit | 300 lbs. per side | Unknown. "Any and all weights!" | 500 lbs. per side | 250 lbs. per side |
| Return Policy | 48-hr return processing, then schedule a donation pickup. $99 delivery fee (included in $1,o98) is non-refundable. | Call to return and schedule a donation pickup | Donate and email receipt, or call to coordinate donation pickup. (It can take a month!) | Courier pickup in NYC; call to coordinate donation pickup elsewhere |
*For a queen-size mattress, including taxes, shipping, and fees
"Mattresses are one of the biggest consumer purchases that everybody makes after a house and a car. It's a big investment. And if you think about what you get at the mattress store, it's a black box and you don't know what's inside of it."
If a mattress manufacturer has nothing to hide, the company should disclose every single material that goes inside that big, white fluffy box — what materials, how much of each, and where they come from. "If anybody refuses to give specs to you, you have a disreputable company," said Dr. Breus.
Did You Know?
Sleep position doesn't matter as much as mattress companies tell you.
But our experts still had some sleep position recommendations.
Depending on your bed frame, you might need to purchase a box spring.
Mattress warranties — like all warranties — come with a lot of fine print.
Rejoice! You no longer have to haggle your way through the traditional box-store mattress buying experience. Online retailers offer a curated selection of quality choices at affordable prices, and the best ones offer a full money-back guarantee if you don't like your mattress — even after actually sleeping on it for a month or more.
Take Action
Try your new mattress for at least 30 nights.
Keep it clean.
Replace your mattress every five to 10 years.
This research was conducted by Reviews.com. For the original article and more information on the research, click here.