There are many reasons San Francisco may be in your sights. Maybe it's the allure of the salty air. The progressive culture. The tech industry jobs. Or the mystical fog that blankets the city so lovingly it has a name of its own: Karl the Fog.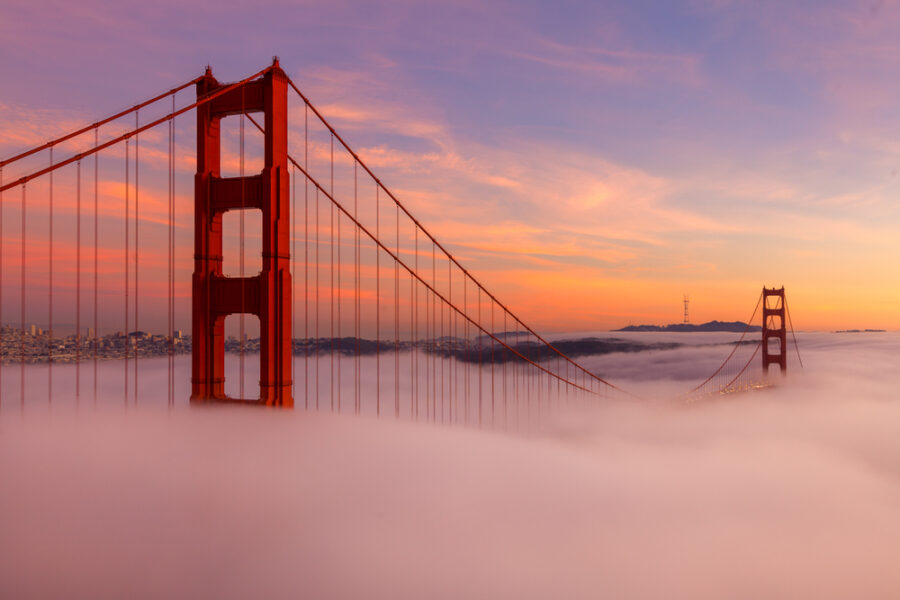 Whatever the appeal, San Francisco whispers the name of many transplants from around the globe. That makes the city vibrant, multicultural, and full of culinary experiences from every corner of the globe.
No matter why you end up in San Francisco, you're bound to find a neighborhood that suits you. If you're looking for your next home in the city, we'll help you narrow down the options. We've put together a list of the best San Francisco neighborhoods to live in 2021. Let us give you a head start on your search.
Pacific Heights
Familiar to many from the classic movie "Mrs. Doubtfire", Pacific Heights is rightfully the poster neighborhood for San Francisco. One of the most prestigious areas of the city, its hilly terrain (okay, we can say that about much of San Francisco) means great views.
Pacific Heights has a variety of beautiful homes, from English Tudors to Victorians. It's a collection of classic architecture, including mansions of high-tech big wigs like Larry Ellison of Oracle and Jony Ive (formerly) of Apple fame.
Retail is booming here, with Filmore Street housing a variety of fashion outlets. Everything from swank fashion houses to locally owned boutiques to thrift secondhand stores awaits you. Also, plenty of coffee shops for when you need to recharge some energy during your retail therapy.
Noe Valley
A smalltown haven in the central area of San Francisco, Noe Valley is the best of both worlds. Bordered by SF's famous hills – it's called Noe Valley, after all – it has an intimate feel. 24th Street has everything you need: stores selling artisanal goods, yoga studios, bookstores, boutiques, and Whole Foods. With bars and restaurants that open out to the street, you'll feel right at home when you step out.
There's a close-knit community feel in Noe Valley and they've established a town square off 24th Street that serves as a gathering place. The town square came together thanks to locals who organized to turn a parking lot into usable community space. The Noe Valley Farmer's Market takes place here, with live music, local produce, food trucks, and children's activities each Saturday.
A very walkable part of the city, you'll find lots of people with strollers and dogs out for a stroll. A coveted neighborhood, it's a bit pricey but offers gorgeous Victorians and charming small homes. Noe Valley attracts new families and older people alike, seeking a strong sense of community and safety with all of the convenience and access to the city.
Don't expect much nightlife here – what you will get is a quiet and less hectic part of the city. You can easily access that inner-city vibe from Noe Valley, though, if that's what you're looking for.
The Castro
Located at the intersection of Market and Castro Streets, The Castro is rich with history as an important site for LGBTQ+ rights activism, and as a predominantly gay neighborhood. You'll find a variety of gay bars, shops, and restaurants playfully named in homage to this important connection of diverse social rights. It has streets lined with rainbow flags, a symbol of queer identity.
While The Castro is unabashedly welcoming to the LGBTQ+ community, it's a vibrant, friendly community for all. There is a diverse population throughout the neighborhood due to the central location, access to public transportation, and gorgeous architecture. You'll find plenty of Edwardian, Victorian, and Modernist homes throughout.
Come to The Castro with an open mind, and perhaps a bus pass – parking can be tricky in this neighborhood. It's not uncommon to see people walking around in various states of undress (with genitals covered as required by law, of course). Living here, you'll be only a short walk from the famous Delores Park, where you'll be able to soak up the sunny San Francisco days.
The fringe of The Castro is quieter than the center of the neighborhood, and you'll be able to live on a quiet street with close proximity to the bustle of city life. If you have a family or plan to start one soon, be aware that this is one of the more progressive areas of town and you may field some questions about
The Mission
With an outdated reputation for being dangerous and dirty, The Mission has cleaned up its act. It's now a safe and diverse neighborhood with a new reputation: the sunniest spot in San Francisco.
Dolores Park is here in The Mission, and on any given weekend you'll find it vibrant and full of people picnicking, practicing acrobatics, playing music, and virtually any other activity you might like. The park is as lively as the neighborhood full of art and murals and a variety of expressions.
A mix of Latinx community and young creatives lends to a vibrant and eclectic feel. The attraction of young professionals in the high-tech industry has lead to the ongoing gentrification of The Mission causing a little angst amongst long-time residents.
You'll find some of the oldest residential architecture in the city, with a mix of Edwardian and Victorian housing, small homes, and small walk-up apartments. There are a few condominiums but their height is kept at 4 to 5 stories, letting the sunshine reach the streets. You'll find hip coffee shops, chic galleries, and small music venues here. And lots of great Mexican grocery stores and taquerias, if that's your thing.
Potrero Hill
A neighborhood with understated charm, Potrero Hill has humble roots – 'Potrero' means 'pasture' in Spanish. A mostly residential area, Potrero Hill sits on a hilltop perch with gorgeous city views.
There isn't a central main street and there's less of a pedestrian feel amongst the steep hills. Potrero Hill attracts filmmakers and skateboarders and is a racially diverse neighborhood. It's a more quiet area than much of San Francisco but does have a couple of indie music venues and is home to the California College of the Arts.
You'll find a range of residential and commercial buildings like lofts and workspaces for startups building the next big thing, and small homes, condos, and Victorian houses. You'll find some cafes, bookstores, and a public library here. Potrero Hill is a bit more affordable than other parts of San Francisco, though public transportation isn't as abundant here, either.
When you're ready for your move to San Francisco, Unpakt can get you there. We can connect you with a reliable, trusted moving company to safely and swiftly move your things. Start making yourself at home and calling yourself a San Franciscan!