Moving is moving, right? Well, not exactly.
There are some elements of every move that are similar. You pack your things, load them into a vehicle, transport them to your new home, then unload and unpack them. It's true at a basic level the process is the same, but when it comes to moving companies there are some different elements involved.
Let's look at the key differences between local and long-distance moving.
What is a Local Move?
Local movers typically handle relocations within a town, city, metropolitan area, or surrounding suburbs. These are intrastate moves – those within the same state and typically within a relatively short distance. Many movers will define a local move as one within 50-70 miles.
What is a Long-Distance Move?
A long-distance move is often more of an interstate move, those which require crossing state lines. Long-distance movers need special know-how to secure your belongings for the long haul, and if they are crossing state lines, they'll need insurance to cover different places and policies.
Long-distance moves may be calculated in a matter of days rather than a matter of hours, depending on how far you're going. Movers will need to secure the truck and your belongings mid-transport. Long-distance movers can also transport your car, boat, motorcycle, or other vehicles for you.
How Do Local Movers Calculate Prices?
Quotes from local movers are a relatively simple and straightforward approach. Local movers will calculate based on the number of hours your move will take, the number of movers needed, and any special requirements. If you're moving large or bulky items such as a pool table, piano, or large artwork, your movers will require equipment to shit them safely.
Other factors which could affect the cost of your move include long carry fees (if your mover needs to park a long distance from your front door), stair carry fees, and costs for packing materials if needed. Bear in mind that many local movers will offer full-service moving as an option, which means they'll pack and unpack your entire house for you, for a charge.
How Do Long Distance Movers Calculate Prices?
Long-distance movers approach your quote differently. There are a few factors they take into account when determining the cost of your move, including:
The amount of stuff you have
How many movers it will take
The size of the truck and the gas it will require to complete the job
Any specialty items such as a pool table, piano, or vehicle
Storage in transit (SIT), if required
Additional insurance and liability coverage
Similar to local movers, you'll find some additional charges for complex entries at either of your residences. Full-service moving is also an option for long-distance, allowing your movers to expertly pack your belongings to survive the long haul (and perhaps different terrains).
Other Things to Consider
Whether you're moving locally or long-distance, there are factors that can affect the cost of your move. As demand fluctuates so does the cost of moving. The "high season" for moving companies stretches from late spring through late summer. During this period movers are in higher demand, their schedules are more full, and trucks are less available. That means rates go up.
Particularly when it comes to local moves, the day you choose to move is also a factor. The beginning and end of a month are always in higher demand as people move in transition times for lease periods. Weekends are more popular (for obvious reasons) so if you can take a personal day at work and move on a weekday you'll save money.
Where Can I Book a Trusted Moving Company?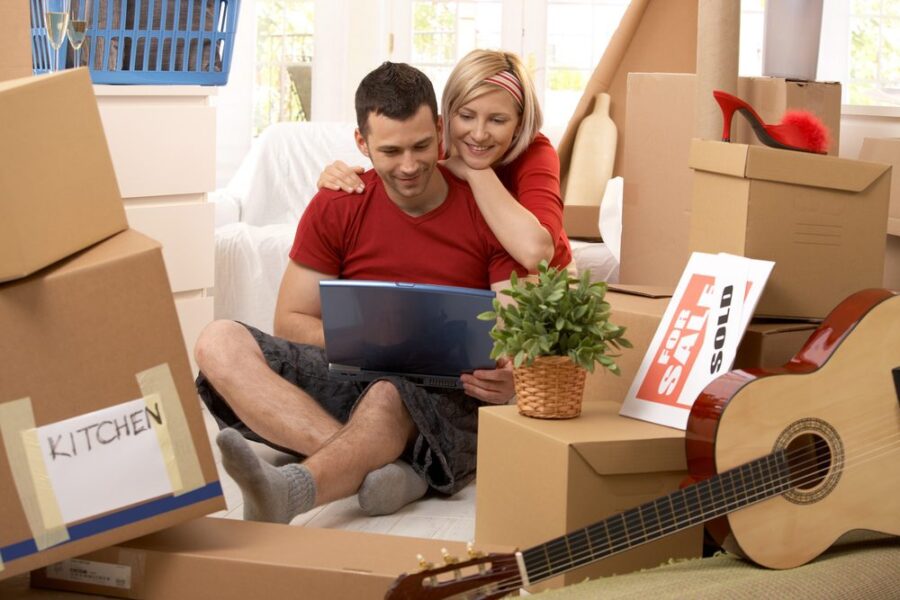 Thankfully, access to information online makes it easier than ever to book a trusted mover. You don't have to dial down the phone book or tear the number off a printed flyer stapled to an electrical pole these days.
Online tools such as Unpakt allow you to input your move information and receive a quote from reliable, trusted moving companies near you. Compare quotes and find the right one for you so you can move with confidence.