The modern era is a blessing and a curse. We have so many options for everything we need, but that means we have to make choices from a long list. It can be hard to weed through and determine just what is best for you.
Moving companies are no exception. A quick Google search will return so many options it could make your head spin. Of course, every mover's website will claim to be the best in the bunch, but which one is best for handling your move?
We've put together some tips on how to choose professional movers in 2022, to help you get to your new home with peace of mind.
Qualities of a Great Moving Company
Every moving company has different strengths, and it's important to match the right company to your needs. Moving long-distance? Have antique furniture? Need to navigate downtown streets and inner-city buildings? Choose a moving company that has the equipment and the experience to tackle the move.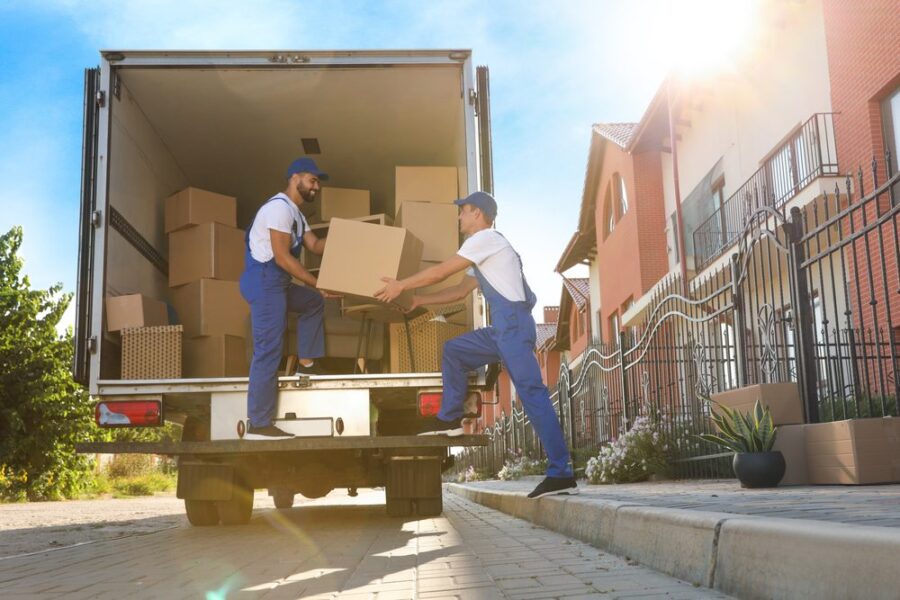 There are qualities that are important in any professional mover, however. Consider this your handy checklist for finding the right moving company:
Licensed and insured – ensure your moving company has all of its paperwork in order before you hire them, including a current business license and proper insurance in case of unforeseen incidents
Great communication skills – hire a mover that is a good communicator during the quoting process
Experienced and professional – an experienced team will ensure your precious belongings arrive without damage
Punctuality – if your mover follows through with timelines and other commitments in the quoting process, that's a good sign
Reputation – check online sites like Google and Yelp to see what others have experienced with the moving company before you hire them; repeated complaints (such as hidden fees) are a red flag
Tips for Finding Professional Movers
It's great to understand the qualities of a good mover before you start your search. A great professional mover is more than just the price on their quote. Ideally, you'll want someone who has the whole package: a price within your budget, all of the right experience and equipment, professionalism, and a solid reputation.
When you're ready to start searching for that perfect moving team, here are some tips:
Know What You're Moving
For some, this may seem obvious. The truth is, many people start hunting for a moving company before they understand just what it is they're actually moving.
A professional mover can't give a detailed and accurate quote if you don't know the details of the job. That means downsizing, sorting, and getting a good picture of what's coming with you. You don't need to provide an inventory list down to the last detail, but do yourself and your moving company a favor and take some time to get the scope of the move.
Check with Friends and Family
Recommendations are a great place to start when you're looking for a professional moving company. Check with friends, family, and colleagues to see if anyone has moved recently. They'll be able to share their experiences – both good and bad – and give you a shortlist to call and collect quotes from.
Get a Written Estimate
Always get your estimate in writing so you have a record of your agreement. That means the details of your move, what's included, and the bottom line. Considering selling some of your furniture, or taking things out of storage to move with you? Hopefully, you've sorted that in the "know what you're moving" phase, but if not, discuss it with your mover. Your quote will be affected by moving less or more stuff.
Understand Additional Fees
No matter how detailed your estimate, make sure you understand what may affect the price of your move. Ask about additional fees such as fuel surcharges or equipment fees. Hopefully, all of these things are itemized on your quote but don't assume.
Your professional mover should have discussed entry and exits at your current and future home. Many moving companies will add extra charges for carrying boxes long distances (in the case that they are unable to pull the truck up to your building), flights of stairs, or other complications.
Chat About Insurance
Professional moving companies are legally required to offer a basic level of insurance coverage. It's important that you understand what that includes, and what it doesn't. We all like to hope for the best and a trusted moving company will do everything they can to move your items safely. The reality is, sometimes things happen that are out of our control. Make sure you and your precious items are covered.
Consider Extra Services
Want to skip the hassle of packing and crating your items? There are movers for that! A full-service moving company will take care of all of your packing needs for you. They'll bring all of the packing supplies to your home, saving you the time and hassle otherwise dedicated to collecting them yourself. Then, they'll pack everything for you, disassemble your furniture, and prep all of your items to be loaded into the truck.
After transporting your items to your new home, they'll handle all of the unpacking and reassembly, too. Your full-service moving company will also take all of the supplies with them, so you don't have to worry about tripping over empty boxes.
Do Your Research
Finding a mover that ticks all of the boxes take a bit of time, but you'll be happy you put in the effort. After all, your moving team will be transporting all of your worldly possessions and it's important to find someone that not only fits your budget but that you can trust.
Before signing on the dotted line, do a little research on the mover you like. Check Google and Yelp to be sure they have a good reputation. You can also look up the company on the Better Business Bureau (BBB) website, where any complaints lodged against them will be available. Keep an eye out for repeat complaints or other red flags.